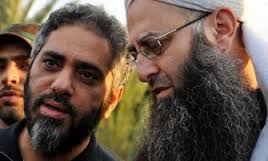 The two charred corpses found in the southern city of Sidon following the deadly clashes are not those of radical Salafist Sheikh Ahmed al-Assir and Fadel Shaker the state commissioner to the military court revealed on Wednesday based on DNA tests.
Judge Saqr Saqr who is overseeing the initial investigation into the fighting between Assir's supporters and the army in Abra near Sidon, ordered on Monday the release of nine people who had been arrested at the end of the battles. 30 suspects remain in custody.
Assir and Shaker reportedly fled the scene of the clashes and remain at large.