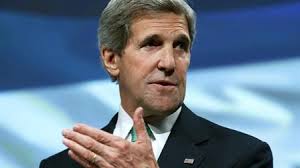 US Secretary of State John Kerry says supporters of the Syrian opposition will step up military and other aid in a bid to end an "imbalance" on the ground in President Bashar al-Assad's favour.
Kerry, speaking at a conference of foreign ministers in Qatar on Saturday, said that the United States remained committed to a peace plan that includes a conference in Geneva and a transitional government picked both by Assad and the opposition.
The rebels need more support "for the purpose of being able to get to Geneva and to be able to address the imbalance on the ground," Kerry said.
"The United States and other countries here – in their various ways, each choosing its own approach – will increase the scope and scale of assistance to the political and military opposition," Kerry said.
Kerry said that the governments at the conference – which include stalwart supporters of the rebels Qatar and Saudi Arabia – would work to "coordinate our support" to the opposition's Supreme Military Council.
Kerry accused Assad of an "internationalisation" of the conflict which has claimed nearly 100,000 lives by bringing in the support of Iran and the Lebanese Shi'ite movement Hezbollah.
"Reliable civilian governance and a stronger and more effective armed opposition will better enable the opposition to be able to provide the counterweight to the initiative of Assad," he said.
President Barack Obama has announced plans to step up assistance to the rebels after concluding that Assad crossed his stated red line by using chemical weapons.
But the United States has said little about its own assistance, with Obama voicing concern about becoming too involved in the increasingly sectarian conflict.
News.com.au