Hezbollah Slams German accusations over Syria role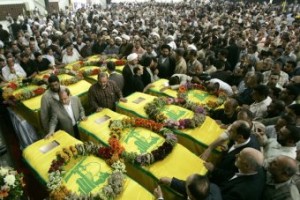 Lebanese militant party Hezbollah lashed out Saturday on German Foreign Minister Guido Westerwelle for his accussation against the party of killing civilians in Syria's al-Qussair.
In a statement of its media office, Hezbollah denounced Westerwelle's accusations as "void, false and baseless," adding " under international norms, a country's stances and policies should not be based on false and misleading information."
Westerwelle said in comments published in the Saudi Okaz newspaper that Hezbollah's involvement in al-Qussair battles is a "dangerous turn of events in Syria," condemning Hezbollah fighters ' targeting of civilians in the city some 10 km away from the Lebanese border.
In response, Hezbollah said it "adopts the highest moral and humanitarian standards in dealing with civilians and military personal, which every international humanitarian institution would agree on."
Hezbollah has become increasingly embroiled in the Syrian conflict by dispatching fighters to battle alongside the government troops, most notably in al-Qussair, a former rebel stronghold that had served as a conduit for weapons and fighters streaming in from Lebanon.
Media reports have said Hezbollah's involvement was crucial for the Syrian troops' recapture of the city earlier this month, a strategic victory dealing a harsh blow to the opposition.
Xinhua
Photo: Funerals for Hezbollah fighters killed in Syria while fighting against the Syrian rebels. Hundreds of Hezbollah fighters have reportedly been killed while fighting in support of the Syrian regime of president Bashar al Assad. German Foreign Minister Guido Westerwelle said  that Hezbollah's involvement in al-Qussair battles is a "dangerous turn of events in Syria," condemning Hezbollah fighters ' targeting of civilians in the city .  Hezbollah denounced Westerwelle's accusations as "void, false and baseless