Pope Francis meets Lebanese President Michel Suleiman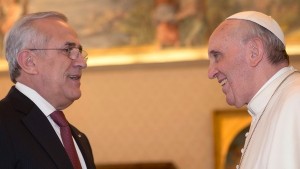 Pope Francis met with the President of Lebanon, Michel Suleiman, on Friday.
The main discussion was the tumultuous situation in the Middle East, particularly the on-going civil war in Syria and the resulting refugee crisis.
The two men first held a private meeting for nearly half an hour, assisted by an interpreter, in the Papal library.
They were later joined by Suleiman's wife, Wafaa Suleiman and another 10 people in the Lebanese delegation.
More than 70,000 people have been killed so far in the Syrian conflict, according to the United Nations.
More than 1 million Syrians have fled their homes and sought shelter in neighboring countries such as Jordan, Lebanon and Turkey, while millions more have been internally displaced by the fighting.
The two men discussed the ethnic diversity in Lebanon and the importance of dialogue and collaboration among the different ethnic communities.
Lebanese Shiites and Sunnis are divided over Syria's civil war, with many Shiites backing President Bashar Assad's regime while a large numbers of Sunnis back the opposition.
Lebanon and Syria share a complex network of political and sectarian ties and many fear that violence in Syria will spread to Lebanon.
The Pope and the President also discussed the on-going tensions between the Israelis and Palestinians, noting that negotiations need to be re-started in order to guarantee peace and stability in the region.
More aid
Pope Francis called Friday for greater humanitarian aid for the Syrian refugees in Lebanon and surrounding countries, after meeting with the Lebanese President at the Vatican.
"The huge number of Syrian refugees who have sought refuge in Lebanon and the neighbouring countries gives rise to particular concern," the Vatican said following the talks.
"Greater humanitarian aid is called for, for the refugees and the suffering population, with the support of the international community," it said.
Al Arabiya, AP