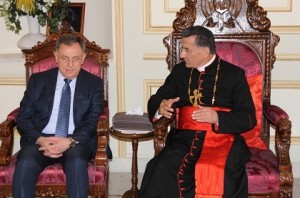 The Lebanese Forces and the Future Movement have reached an agreement on a new law for the upcoming elections.
"There is a new mixed electoral law… We and The Future Movement have agreed on," LF bloc MP George Adwan told MTV on Sunday.
His remarks came after he and former PM and Future bloc leader MP Fouad Siniora met with Maronite Patriarch Cardinal Beshara Boutros al-Rai in Bkirki in order to discuss the electoral law they agreed on.
"We have made great progress in expressing the desire we are insisting on, which is holding the elections, and we hope we will reach a hybrid law that mixes the winner-takes-all and proportional representation systems," Siniora said after talks with the Maronite Patriarch .
"Things cannot take any further postponement and the Lebanese have no interest in extending the crisis," Siniora added.
"We share almost identical viewpoints with Future Movement and other parties must meet us halfway like al-Mustaqbal did," Adwan said.
According to media reports Future lawmakers and Progressive Socialist Party leader MP Walid Jumbaltt started elaborating a new mixed electoral proposal that will be based on majoritarian voting in 26 districts and proportional voting in 9 other districts. This is supposed to serve as an alternative to the current 1960 law, which has been rejected by the majority of the Lebanese except Jumblatt.
Rai
Rai expressed hope on Sunday that there would be consensus among the Lebanese on a fair electoral law and on the formation of the new government.
"I hope that the coming days would bring consensus on a new electoral law that is fair … and guarantees for all the citizens the best representation in parliament," said Rai in his sermon during a mass attended by Free Patriotic Movement leader MP Michel Aoun and members of his Change and Reform bloc.
Rai also hoped for consensus on "the type" of the government and its formation, a day after MP Tammam Salam was tasked with forming the new cabinet.
Salam said Saturday he would do his best to form a "national interest government," a process that could take time because of the sharp divisions between the Hezbollah-led March 8 alliance and the March 14 coalition.
Rai telephoned Salam on Saturday night to wish him success. He also hoped for a swift cabinet formation, said the state-run National News Agency.
Rai, who travels to France on Monday for talks with top officials, said o Sunday that he would later visit the Lebanese expatriates in Argentina, Brazil, Paraguay, Uruguay, Venezuela, Costa Rica and Colombia. From there he will head to to Rome and return to Lebanon end of May.