Obama: Chemicals Would Be 'Game Changer' in Syria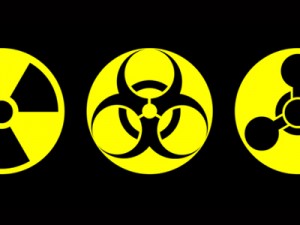 Showing solidarity with Israel's growing concern about chemical weapons in neighboring Syria, President Obama stated bluntly on Wednesday that if an investigation he had ordered found proof that the Syrian military had used such weapons it would be a "game changer" in American involvement in the civil war there.
On the first day of his first trip to Israel as president, in which Israeli officials stated their own conclusion that chemical weapons had been used in an attack on Tuesday in Syria, Mr. Obama's remarks represented both an effort to warn the Syrian government of the consequences of using its chemical arsenal and to signal his administration's support for Israel, the central point of his visit.
American officials reiterated that they did not have independent evidence that chemical weapons had been used, and the president made clear that it would require proof gathered by investigators before he would come to any conclusions. Mr. Obama, while vocal in his opposition to the government of President Bashar al-Assad of Syria, has been reluctant to involve American forces in support of the opposition. Presidential aides made clear that he was not signaling any change in that regard.
But Mr. Obama's remarks, in which he pointedly left open the possibility that President Assad's government had used chemical weapons — and all but ruled out Mr. Assad's assertions that insurgents had used them — were unusually strong in tone.
"Once we establish the facts, I have made clear that the use of chemical weapons is a game changer," Mr. Obama said at a news conference with Prime Minister Benjamin Netanyahu of Israel.
Again and again during his visit, Mr. Obama signaled that the United States and Israel were partners on a broad range of issues, reinforcing their historic alliance and America's stated commitment to protect Israeli security. Mr. Obama pointedly emphasized his administration's pledge to prevent a nuclear-armed Iran, one of Mr. Netanyahu's greatest fears.
But concern about chemical weapons in Syria were a major focus of the day.
Two senior ministers in Israel's new cabinet said publicly on Wednesday that chemical weapons had been used, and several government officials said in interviews that Israel had credible evidence of an attack. The ministers, Tzipi Livni and Yuval Steinetz, were among those who met with Mr. Obama here on the first day of his trip.
A senior American official, however, said Mr. Netanyahu had not presented conclusive evidence of an attack in his closed-door discussions with Mr. Obama. The president's words might have been intended to reassure Mr. Netanyahu, who has long feared that Mr. Assad's stockpiles of chemical weapons could be used against Israelis.
In Washington, the American ambassador to Syria, Robert S. Ford, testified before Congress that the United States still did not have proof that the weapons had been used. But he added, "We take these reports and these possibilities very seriously."
Mr. Obama's remarks were his first public reaction to the reports on Tuesday that chemical weapons had been used. They seemed calculated, in part, to counter claims by both the Syrian government and its major supporter, Russia, that opposition forces had mounted a chemical attack against the government.
"We intend to investigate thoroughly exactly what happened," Mr. Obama said. "I've instructed my teams to find out precisely what happened, what we can document, what we can prove."
While Mr. Obama cautioned that he did not have all the facts, he said, "We know the Syrian government has the capacity to carry out chemical attacks" and that he was "deeply skeptical of any claim that it was the opposition that used chemical weapons."
Israeli officials provided no proof of their assertions but appeared more confident that chemical weapons had been used.
Ms. Livni, the new Israeli justice minister, said in an interview with CNN, "It's clear for us here in Israel that it's being used," adding, "This, I believe, should be on the table in the discussions."
Mr. Steinetz, the minister for strategic affairs, said on Israel's Army Radio, "It's apparently clear that chemical weapons have been used against civilians by the rebels or the government."
Two senior Israeli officials, speaking on the condition of anonymity because they were not authorized to speak, said that Israel was sure that chemicals were used, but did not have details about what type of weapons were used, where they came from, when they were deployed, or by whom.
A third senior official, also refusing to be identified, said, "It is possible that chemical weapons were used, or some concoction of chemical substances," but he said he had not "seen clear confirmation."
Mr. Obama spoke after both the Syrian opposition and the government escalated accusations of chemical weapons use, with both sides demanding an international investigation.
The National Coalition of Syrian Revolutionary and Opposition Forces, the umbrella political group that wants to topple Mr. Assad, said in a statement that it "condemns these attacks and holds the Assad regime fully responsible for shedding Syrian blood." The group said the attacks killed at least 19 civilians and left 69 others short of breath, with some in critical condition.
The coalition accused government forces of carrying out two chemical weapons attacks on Tuesday — one in the Khan al-Assal area of northern Aleppo Province, as originally asserted, and a second strike in the Ataybah area of suburban Damascus.
Ambassador Ford, in his testimony, also said that the United States was investigating reports of attacks in the north, and in the suburbs of Damascus.
Fears about Syria's growing instability are shadowing Mr. Obama on each stop of this trip. On Thursday, he is to visit the president of the Palestinian Authority, Mahmoud Abbas, who is expected to raise worries about the plight of Palestinians in Syria. On Friday, he is scheduled to meet King Abdullah in Jordan, which has been flooded with Syrian refugees.
At the United Nations, the Syrian ambassador, Bashar Jaafari, told reporters that his government had also requested an official inquiry to corroborate its claims that insurgents — not government forces — had used the weapons. Mr. Jaafari said he had delivered a letter to Secretary General Ban Ki-moon's office seeking a "specialized, independent and neutral technical mission to investigate the use by the terrorist groups operating in Syria of chemical weapons yesterday against civilians."
Mr. Ban's spokesman, Martin Nesirky, said the request was under study.
Mr. Nesirky also repeated Mr. Ban's reaction to the first allegations of chemical weapons use on Tuesday, saying, "The secretary general remains convinced that the use of chemical weapons by any party under any circumstances would constitute an outrageous crime."
The chemical weapons issue quickly became entangled in the longstanding, sharp divisions on Syria in the United Nations Security Council, between Russia and those Western states opposed to the Damascus government.
In a Security Council debate, France said the United Nations should investigate the opposition's accusations that chemical weapons were used by the government not just in the Aleppo area but also at the second site, in the Damascus suburbs. Russia accused the West of trying to create a diversion, an accusation echoed by the Syrian envoy.
The Russian envoy, Vitaly I. Churkin, said the United States, France and others were engaged in "delaying tactics," for raising the allegation of a second site and for demands like humanitarian access to treat any victims.
"Instead of launching those propaganda balloons it is better to get our focus right," Mr. Churkin said.
The Western demands, he said, echoed inspections instituted against Iraq more than a decade ago, which failed to find any chemical weapons. Mr. Churkin also said he would not put it past the opposition to fake a chemical weapons attack by the Syrian government because it knows their use might well prompt international intervention. The Syrian ambassador seconded that possibility.
The French envoy, Gerard Araud, sarcastically referring to Mr. Churkin's summary of the council debate as "fascinating," said France and its allies wanted the United Nations to investigate all possible incidents.
NY Times