Death penalty sought for Hezbollah member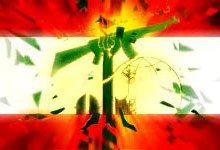 Military Examining Magistrate Fadi Sawan demanded the death penalty for a Hezbollah member who was indicted in the attempted assassination of MP Boutros Harb, according to local reports .
Sawan's denmand against Mahmoud al-Hayek, who hasn't surrendered to police, came in an indictment that the judge issued issued on Thursday.
He also issued an arrest warrant against Hayek and referred the file to the permanent military court for trial.
This comes after Military Prosecutor Saqr Saqr requested Wednesday a sentence of life in prison with hard labor
for Hayek who has been charged with the assassination attempt on Harb last year and with carrying out acts of terror.
Harb, a key member of March 14 opposition , escaped the assassination bid after residents of a building in which his office is located in the Beirut district of Badaro discovered individuals trying to booby-trap the elevator.
Lebanon has been witnessing for several months a wave of assassinations starting with the attempted assassination of Lebanese Forces leader Samir Geagea last April, the attempted assassination of MP Harb, the assassination of Lebanon Internal Security intelligence chief and several threats of assassinations against several figures including March 14 MP Marwan Hamadeh and Mufti Shaar of Tripoli.
Hezbollah has been accused of being behind some of these threats. Hezbollah has refused so far to hand Hayek over to the judicial authorities just like they refused to hand over the four killers of former PM Rafik Hariri, who was assassinated in downtown Beirut on February 14, 2005.
Harb has blasted his rivals in Hezbollah for failure to hand over the suspect for interrogation.
He has also slammed the government for remaining silent about ministers aligned with the militant group who he alleges provided cover for Hayek.