Senior Al Qaeda Leader 'Killed In Mali'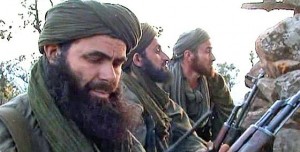 French forces in Mali have reportedly killed Abdelhamid Abu Zeid, a commander of al Qaeda's north Africa wing.
Abu Zeid was among 40 militants who died in the region of Tigargara in northern Mali three days ago, according to Algerian Ennahar TV.
A French defence ministry official declined to comment on the report.
Abu Zeid is a leading field commander of al Qaeda in the Islamic Maghreb, a group known as AQIM, and is regarded as one of its most ruthless operators.
He is believed to have executed British national Edwin Dyer in 2009 and 78-year-old Frenchman, Michel Germaneau, in 2010.
France launched an assault to retake Mali's vast northern desert region from AQIM and other Islamist rebels in January, after a plea from Mali's caretaker government.
The operation dislodged the rebels from several main towns they had occupied, driving them back into remote desert areas.
AQIM has earned tens of millions of dollars in ransom payments for Western hostages taken to its strongholds in northern Mali.
Sky News
Photo: Abdelhamid Abou Zeid, an Algerian national and senior commander of al-Qaeda in the Islamic Maghreb