Messy Italian Election Shakes World Markets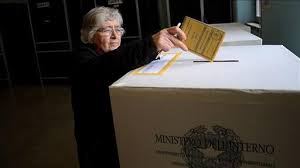 In a national election meant to push Italy further down a path of economic reform, voters delivered political gridlock that could once again rattle Europe's financial stability.
Markets in Europe and the U.S. gyrated even in response to early returns. The Dow Jones Industrial Average swung nearly 300 points, ending with its worst day in almost four months, as the prospects of a stable government appeared to drop.
WSJ's Giada Zampano in Rome feels the pulse of Italian disaffected voters as they head to the polls for Italy's most-watched elections in decades. Photo: EPA
The center-left Democratic Party is expected to triumph in Italian elections, according to instant polls released just after the close of the voting booths on Monday. Alessandra Galloni has the latest on Markets Hub. Photo: Getty Images.
A majority of voters endorsed parties that had promised to tone down or even reverse the financial sacrifices Italy has promised its European partners, giving surprise lifts to both the center-right coalition of former premier Silvio Berlusconi and a party of protest led by a former comedian.
Late Monday, the left-wing coalition led by the Democratic Party's Pier Luigi Bersani appeared to have gained a razor-thin victory in the lower house of parliament over the center-right coalition headed by Mr. Berlusconi—29.6% to 29.2% with 99.9% of the ballots counted. By leading the vote count in the lower house, the Democratic Party will automatically get the majority of seats and, therefore, will likely receive the mandate to form a government.
The Senate, however, appeared headed for political impasse. The Democratic Party was the leading vote-getter in the upper house as well, by less than one percentage point. But its 31.6% result fails to provide its coalition with a majority to pass legislation. If a new government isn't able to guarantee clear parliamentary support, Italians could return to the polls within months.
Battle lines were already being drawn late Monday. The Democratic Party declared slim victories in both houses, saying it will keep Italy's interests in mind during this "very delicate situation for the country." But a top official in Mr. Berlusconi's center-right coalition said he is asking the country's interior minister to call the vote a draw.
The apparent stalemate reflects the groundswell of support for former comedian Beppe Grillo's Five-Star Movement. His throw-the-rascals-out platform drew enough voters to give it nearly as many votes as Italy's mainstream coalitions—25.6% in the lower house at the latest count, making it the single largest party in that house.
Surprising, too, was the comeback of Mr. Berlusconi, whose party was in the doldrums as late as November. The 76-year-old billionaire politician's late surge is attributed largely to the media blitz in recent weeks.
"Whoever thought Berlusconi was finished will have to think again," said Angelino Alfano, the head of People of Freedom, the conservative party founded by Mr. Berlusconi.
Messrs. Grillo and Berlusconi both gave voice to Italian anger over tax increases and pension cuts introduced by the emergency government of Mario Monti, whose own Civic Choice coalition unded up with about 10% of the national vote in both houses, according to the unofficial results.
Mr. Grillo wants a referendum on whether Italy should stay in the euro. Mr. Berlusconi sent voters a letter promising to reimburse them for a controversial property tax.
"The cost of austerity led to an electoral rebellion," said Enrico Letta, deputy head of the Democratic Party. "This is a complex situation to live and manage."
The election surprise poses a challenge for euro-zone creditor nations such as Germany, which have demanded that financially stressed euro-zone countries overhaul their economies in exchange for supporting the European Central Bank's pledge to save the currency union if necessary. A public rejection of austerity policies could rapidly spread to Spain and beyond, forcing European authorities to accelerate their response to the regional crisis or risk another round of the kind of contagion that effectively closed a host of euro-zone credit markets.
"The big difference between Italy and Portugal or Greece is size. Political instability or uncertainty in the euro-zone's third-largest economy will have negative systemic consequences for everyone else," said Sony Kapoor, a former banker who is the managing director of Re-Define, a London-based international think tank focused on European affairs.
The Dow Jones Industrial Average, which rose as many as 81 points in intraday trading on expectations of a victory by the Democratic Party, quickly erased those gains, finishing the day down 216.40 points, or 1.5%.
The euro dropped 1% against the dollar, for its worst day since the beginning of the year. In Milan, Italy's FTSE MIB index saw an intraday gain of 4% wiped out as the electoral results trickled in. The index finished with a slight gain of 0.7%.
Italy's unclear election results are in large part due to the country's electoral law, which was introduced in 2005 and has been dubbed "porker" law because of all its critics. The law awards the majority of seats in the lower house of parliament to the party that wins the most votes at a national level, even if the victory is by one vote.
Senate seats are awarded on a regional basis, with the largest regions gaining more seats. As a result, the difference between gaining a governing majority or not can be determined by a few votes in a few large regions.
It will be difficult for any government to have the parliamentary backing it needs to govern effectively. The only way either of the mainstream parties can claim a majority in the Senate, according to the latest vote tallies, is by allying with each other or with Mr. Grillo. Those are seen as implausible scenarios.
"The situation looks ungovernable, and that's the worst outcome you can imagine," said Guido Rosa, president of the Italian Foreign Bank Association.
The result is that Italy may, over the next few weeks, try to form a temporary government backed by a grand coalition of left and right-wing forces with the sole aim of changing Italy's electoral law and then going to a vote again as early as summer. It isn't clear who would run such a short-lived government, however.
Italy's elections close the door on more than a year of emergency government that was ushered in during the fall of 2011, when investors led a mass selloff of Italian bonds, threatening the country's solvency. Panic was widespread because Italy is considered too big to allow to default in the way that Greece did.
As Silvio Berlusconi pursues a comeback in Italy's election, some say the waning of his political success is exposing weakness in his media empire.
At the time, political uncertainty was seen as part of the problem: Mr. Berlusconi's government was seen as not having the will and ability to fix Italy's ailing economy.
Mr. Monti's government of technocrats took power and passed tax increases and spending cuts that pulled Italy back from the brink of the euro-zone debt crisis. But the austerity dragged Italy's already-ailing economy into a further slump, pushing up unemployment and forcing people to rely more on their families for homes and funds. Italy's debt, meanwhile, continues to be 127% of gross domestic product, meaning that more austerity is likely needed.
Italians poured their disaffection into a bucket of votes for Mr. Grillo. The former comedian isn't himself actually planning to be a member of parliament, but has named a slew of candidates—including many 20-somethings who have never been in politics—to take his party's seats.
Italians' disgruntlement was also reflected in the number of people voting. Italians have traditionally turned out at far higher levels than in other European countries and the U.S., but in this election 75% of the electorate cast ballots, the lowest level in the postwar period.
Another clear result from the two-day elections was the wan showing by Mr. Monti's alliance of centrists. After a year at the helm of Italy's caretaker government, Mr. Monti announced that he was entering the political fray by forming a new movement of centrist politicians and members of civil society. The former European Union commissioner had been widely expected to ally with the Democratic Party after the elections—a scenario that many analysts said would have provided a guarantee that Italy's new government would forge ahead with economic reforms.
But Mr. Monti hasn't been able to shed his image as the man who imposed austerity on Italians. Mr. Monti said in a news conference that he was satisfied with the result of his party, which was only formed 50 days ago. He said markets need not fear confusion because his government had "restored financial solidity to Italian finance."
"We precisely laid the bases for Italy's reform and therefore to allow the inevitable travails of elections to occur in the most tranquil context possible," Mr. Monti said, adding that his government would "watch over the aftermath of elections."
WSJ