Ikea drawn into horsemeat scandal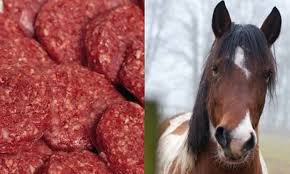 Ikea became the latest outlet to be embroiled in the Europe-wide horsemeat scandal on Monday after traces of the animal were found in a batch of its Swedish meatballs.
The furniture retailer has taken the affected batch off the shelves in 13 countries across Europe, including the UK, Sweden and France.
Czech officials found horse traces in a batch of Ikea's "beef and pork" meatballs which had been sold across the Continent. The product came from a single Swedish supplier but was made in the Czech Republic, according to the retailer. Czech authorities stopped about 760kg of meatballs from entering stores. Ikea declined to name the supplier involved.
The company said: "Ikea takes the test result from the Czech Republic authorities showing indications of traces of horse meat seriously.
"We do not tolerate any other ingredients than the ones stipulated in our recipes or specifications, secured through set standards, certifications and product analysis by accredited laboratories."
The news came as EU agriculture ministers in Brussels discussed a response to a crisis that they now acknowledged was criminal in nature and Europe-wide in its dimensions. Several also indicated that they were leaning toward stronger regulations to police the EU's far-flung food chain and reassure consumers about its safety.
"In terms of preventing fraud, we will have to mainstream in some way across the EU the use of DNA testing to establish and to confirm for consumers that what they think they are eating is actually what they are eating," said Simon Coveney, agriculture minister for Ireland, who chaired the meeting.
Mr Coveney also acknowledged the latest news about Ikea becoming caught up in the scandal. "It is frustrating to see new stories breaking almost on a daily basis – certainly on a weekly basis – new companies involved, big brands, big names that consumers trust. And so we're all anxious to get to the bottom of this," he said.
The furniture retailer said it was doing further tests on the affected batch, with results due in the coming days. Ikea's previous tests on its range of meatballs had revealed no traces of horsemeat.
The meat in the meatballs was originally sourced from countries within the EU, primarily Sweden, Germany and Ireland, where the horsemeat scandal kicked off back in January after the Irish Food Safety Authority found traces of horse DNA in some beef burgers.
Unaffected meatballs are still on sale across the continent, however. "We are not stopping sales of meatballs full stop," Ikea told the Financial Times. "You will still be able to go into Ikea and purchase meatballs – it's only the one batch that is in question."
The horsemeat scandal has hit food retailers across Europe, with supermarkets including Tesco, Waitrose and Aldi being forced to pull a number of ready-made products ranging from burgers to "beef" lasagne from their shelves.
Food industry giants such as Nestlé, the world's number-one foodmaker, have also been affected by the scare. Nestlé had to withdraw some of its pasta products from Italy.
Owen Paterson, the UK environment secretary, said on Monday that the scandal revealed "criminal activity right across Europe" and called for more risk-based testing and more random testing of finished products.
Supermarkets have announced an array of costly DNA-testing measures, with Tesco promising to spend between £1m and £2m on testing. The UK Food Standards Agency also said it would double the scope of its testing in response to the scare.
Other companies have benefited from the scare, however. Sales at Quorn – which makes imitation meat – rose 10 per cent year on year during the period, according to the company.
Financial Times