Syria: Mortar attack kills soccer player at stadium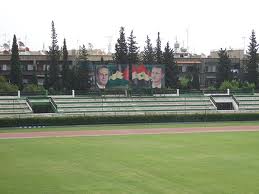 Two mortar shells hit a sports stadium Wednesday in Damascus, killing a soccer player, Syria's state-run news agency said.
The shells fell on Tishreen Sport City Stadium in the al-Baramkeh neighborhood of the capital, the Syrian Arab News Agency (SANA) said. The player was training at the time, the report said.
The government blamed "terrorists" for the attack.
Throughout the civil war in Syria, as the government has launched a brutal crackdown against the opposition, President Bashar al-Assad's administration has continuously blamed "terrorists" for violence.
CNN