Lebanon Heath ministry severs its ties with a hospital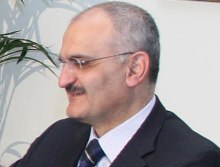 Lebanese Health Minister Ali Hassan Khalil declared on Wednesday that the ministry will cease to cooperate with Tripoli's Dar al-Shifaa Hospital claiming that a child died because the hospital refused to admit him .
"Based on the reports that prove that Dar al-Shifaa Hospital illegally refused to admit six-year-old Mo'men Khaled al-Mohammad…the Health Ministry will cease to cooperate with the hospital. It will carry out investigations and take legal measures against it," National News Agency quoted Khalil as saying in a statement issued Wednesday.
But the hospital denied the allegations in statement that was issued later Wednesday in which it said that "The child's parents brought their child in on Tuesday night, but hopsital staff found that the child had a 38.5 degree-fever and was not in urgent need of treatment."
The statement added: "The parents proceeded to take their son to Al-Kheir Hospital and returned to Dar al-Shifaa hospital at around 5:30 in the afternoon. The child was by then dead, and the staff took emergency measures to try and resuscitate him."
The statement added : "The hospital does not refuse to admit any patient with an urgent medical condition for any reason. Most of all this hospital does not turn patients away for financial reasons."
Meanwhile, Social Affairs Minister Wael Abou Faour dispatched a delegation from his ministry "to meet with the deceased child's parents and take the steps necessary to determine the truth behind the incident."
Abou Faour called on "hospital and medical clinic owners not to refuse the admission of any medical and humanitarian case because of financial issues."
On Tuesday, media reports said that six-year-old Mo'men died at the doorstep of a Tripoli hospital after the city's hospitals refused to admit him unless his parents provided the money for his medical treatment in advance.
Now