Syrian envoy denies Hezbollah is helping the regime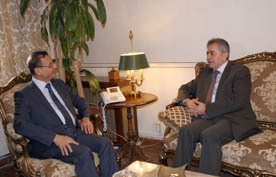 Syrian Ambassador to Lebanon Ali Abdul Karim Ali denied on Monday the reports alleging that Hezbollah is aiding the Syrian forces against the Free Syrian Army rebels in the border town of Qusayr and claimed that the Lebanese residing in Syrian territories are directly confronting the attackers.
"The Lebanese residing in Syrian territories are directly concerned with confronting the gunmen who attack them," Ali told reporters after his meeting with Foreign Minister Adnan Mansour .
He branded the reports as fabrications, despite the fact that Hezbollah acknowledged that 3 Lebanese Shiites were killed and 14 were wounded in the battles in Syria
Louay al-Meqdad, a spokesman of the rebel Free Syrian Army, accused Hezbollah, in comments published in An Nahar newspaper on Monday , of carrying out an "unprecedented invasion" backed by Syrian artillery fire in villages in central Syria.
The opposition Syrian National Council said Hezbollah fighters crossed into Homs province of central Syria on Saturday and attacked three Syrian villages in the Qusayr region.
Also Deputy commander of the Free Syrian Army Colonel Malik al Kurdi told An Nahar Newspaper that what happened on the Lebanese-Syrian border, "confirms what we have been saying all along and that is Hezbollah and Iran are deeply involved in the suppression of the Syrian people.
He added in a statement that was published on monday : "What happened reflects Lebanese government's collusion, because the town of Qusayr was bombed from inside the Lebanese territory and for this reason we hold the Lebanese government and the UN Security Council responsible specially since we have warned the international community on several occasions of Hezbollah and Iran's involvement."
He went on to say : "We have our strategy and our plans to deal with the party, and there will be a timely responses,. We will repel the attacks and will treat Hezbollah as mercenaries."
The Syrian envoy called on those reporting these kind of news to "respect the moral standards and credibility."
Ali claimed that his country is currently controlling several crossing along the Lebanese-Syrian border and that the Lebanese army is helping in confronting arms smuggling operations.