Oil Exports Trim U.S. Deficit
Record petroleum exports helped shrink the U.S. trade deficit in December to the smallest in almost three years as America moved closer to energy self- sufficiency, a goal the nation has been pursuing since the 1973 Arab oil embargo.
The gap narrowed 20.7 percent to $38.5 billion, the smallest since January 2010 and lower than any estimate in a Bloomberg survey of 73 economists, Commerce Department figures showed today in Washington. Oil exports climbed $11.6 billion. Another report showed wholesale inventories unexpectedly declined in December.
In addition to trimming the trade deficit, greater fuel autonomy helps boost household incomes, jobs and government revenue and makes American companies more competitive. An improving global economy, reflected by record exports to South and Central America, also means manufacturers such as Caterpillar Inc. will benefit.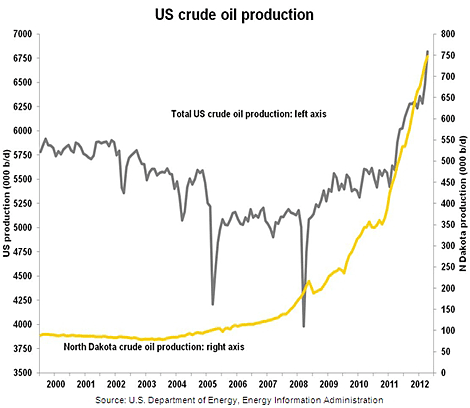 "The trend toward energy independence is there, and it is picking up," said Andy Lipow, president of Lipow Oil Associates LLC in Houston with more than 30 years of experience in refining and trading. "This bodes well for our economy. As our oil production increases, our reliance on other parts of the world for oil comes down."
Stocks climbed, sending the Standard & Poor's 500 Index to the highest level since November 2007, after the report and on corporate earnings that topped estimates. The S&P 500 rose 0.6 percent to 1,517.93 at the close in New York. Shares of oil and gas companies such as Hess Corp. and Valero Energy Corp. also advanced.
Wholesale Inventories
Another Commerce Department report showed stockpiles at the nation's wholesalers dropped 0.1 percent in December, the first decrease in six months. The decline followed a revised 0.4 percent gain that was less than initially reported.
The drop in stockpiles at distributors means inventories will probably subtract even more from fourth-quarter economic growth than currently estimated, partially offsetting the benefit from the narrower trade deficit.
The reports prompted JPMorgan Chase & Co., Barclays Plc and Morgan Stanley economists to revise their tracking estimates of fourth-quarter gross domestic product to show a gain compared with the 0.1 percent decline initially reported by the Commerce Department.
After eliminating the influence of prices to produce the numbers used to calculate GDP, the trade deficit narrowed to $44.1 billion in December, the smallest in six months, from $51.8 billion.
Petroleum Gap
The jump in fuel sales to overseas buyers, combined with purchases of the fewest barrels of imported crude in almost 16 years, led to the smallest petroleum deficit since August 2009, the trade data showed.
A surge in U.S. oil production has made the nation the world's largest fuel exporter. Petroleum-product exports to Brazil grew by 59 percent in the first 11 months of 2012, to 255,000 barrels a day, according to data from the Energy Information Administration. Venezuelan imports from the U.S. rose 56 percent.
The U.S. met 84 percent of its own energy needs in the first 10 months of 2012, on track to be the highest annual rate since 1991, according to data from the EIA, the statistical arm of the Energy Department. The country's crude output grew by a record 766,000 barrels a day last year to the highest level in 15 years, the biggest annual jump since the first commercial well was drilled in Pennsylvania in 1859.
Fuel Efficiency
At the same time, the rising fuel efficiency of the average U.S. passenger vehicle has helped limit demand for oil. It increased to 33.8 miles per gallon last year, according to preliminary data from the National Highway Traffic Safety Administration. That compares with 29 mpg in 2011 and 19.9 mpg in 1978.
As the U.S. makes further strides in energy production, the economy will benefit from a narrowing trade gap, job and income growth and improvement in manufacturing and services.
"We've begun to see the repatriation of manufacturing jobs back to the country in small amounts, and that trend is likely to continue," said Lipow, who worked for 16 years at Amoco Oil Company and Amoco Corp., according to the consulting firm's website.
The median forecast in the Bloomberg survey of economists called for the U.S. trade deficit to shrink to $46 billion. Estimates ranged from gaps of $42.3 billion to $48 billion. The Commerce Department revised the November shortfall to $48.6 billion from an initially reported $48.7 billion.
Record Exports
For all of 2012, exports climbed 4.4 percent to a record $2.2 trillion. Imports advanced 2.7 percent to $2.74 trillion. That pushed the trade gap last year down to $540.4 billion from $559.9 billion in 2011.
"The improvement in exports is encouraging," said Brian Jones, a senior U.S. economist at Societe Generale in New York, who projected the December gap would drop to $43.3 billion, the third-lowest in the Bloomberg survey. "With Europe looking less weak and Asia getting better, the outlook for U.S. exports has got to be pretty positive."
In December, exports increased 2.1 percent to $186.4 billion, the second-highest on record after September's $187.1 billion. In addition to the pickup in energy exports, the gain reflected a $1.2 billion jump in overseas shipments of gold.
Imports Drop
Imports dropped 2.7 percent to $224.9 billion in December. The U.S. imported 223 million barrels of crude oil, the fewest since February 1997.
Combined with a lower price per barrel, the value of petroleum purchases decreased to $21.2 billion in December, the smallest since February 2011.
Consumer goods imports climbed to a record $45.2 billion, reflecting a jump in purchases of clothing, furniture and appliances that show demand was holding up as the year drew to a close.
American exporters may also benefit from a weaker U.S. currency, which makes their goods more attractive to overseas buyers. As of Feb. 1, the dollar had dropped 4 percent from last year's peak on June 1 against a trade-weighted basket of currencies from its biggest trading partners, according to Federal Reserve data.
Caterpillar, the world's largest maker of construction and mining equipment, may benefit from improving prospects in the U.S. and abroad.
"The key phrase here when we talk about the world economy in 2013 is a bit better but still weak," Michael DeWalt, a spokesman for the Peoria, Illinois-based manufacturer, said during a Jan. 28 earnings teleconference. "In the United States, we're becoming increasingly optimistic," and "in China, we're expecting improvement in 2013," he said.
China, the world's second-biggest economy, accelerated in the final three months of 2012 for the first time in two years. The growth momentum is "relatively strong," its central bank said this week, while warning that inflation risks may rise.
Bloomberg