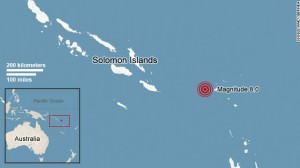 An 8.0-magnitude earthquake struck off the Solomon Islands in the South Pacific early Wednesday, the U.S. Geological Survey reported, triggering a tsunami.
A tsunami warning was issued for the Solomon Islands, Vanuatu, Nauru, Papua New Guinea, Tuvalu, New Caledonia, Kosrae, Fiji, Kiribati, and Wallis and Futuna, according to the Pacific Tsunami Warning Center.
A tsunami watch was in effect for more places: the Marshall Islands, Howland and Baker, Pohnpei, Tokelau, Samoa, Kermadec Islands, New Zealand, American Samoa, Tonga, Australia, Niue, Cook Islands, Indonesia, Wake Island, Chuuk, Jarvis Island, Guam, Northern Marianas, Palmyra Island, Yap, Johnston Island, Minamitorishima and Pelau.
Brian Shiro, a geophysicist at the Pacific Tsunami Warning Center, told CNN that instruments near the Solomon Islands indicated that a tsunami was in fact generated. It is 1 meter high, he said, describing it as "significant."
The event seems to be localized to the region, Shiro said, and authorities are still waiting to see if they want to expand the alert.
The New Caledonia High Commission in the capital of Noumea ordered the immediate evacuation of coastal residents on the eastern coast of New Caledonia and the Loyalty Islands.
The center of the quake was located some 360 miles east-southeast of Honiara, the capital of the Solomon Islands, the USGS said. It was reported to be 3.6 miles deep.
The main quake was preceded by a 6.3-magnitude quake in the region and was followed by several others, the largest of which had a magnitude of 6.6, the USGS said.
There were no immediate reports of damage or injuries.
CNN