4 Lebanese soldiers, killed near border with Syria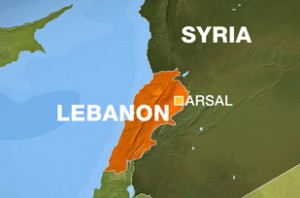 Four Lebanese soldiers and two gunmen were killed in clashes in the country's Bekaa Valley on Friday after militants attacked a Lebanese army unit, security sources said.
Fighting was continuing in the area, near the northeastern town of Arsal, the sources said, close to the border with Syria where rebels are fighting to oust President Bashar al-Assad.
The Lebanese army released a statement confirming the deaths of two soldiers, including an officer, and had cordoned off the area.
Some residents said the clash broke out after the army entered the area to arrest a suspected member of the hardline anti-Assad Islamist group Jabhat al-Nusra, who is believed to travel frequently between Lebanon and Syria.
But one resident, who asked to remain anonymous due to the sensitivity of the issue, said he knew the wanted man and said he said was not a fighter, but a father of seven and a washing machine repair man who also helped Syrian rebels in a peaceful way. "He is also an activist who helps the Syrian revolution," he said.
Syrian rebels have hidden and regrouped in towns and villages on the mountainous Lebanese side of the poorly demarcated border during the revolt, which started with peaceful protests but turned violence after a crackdown.
Syria's army has lobbed mortars over the border and even crossed into its smaller neighbour to fight rebels. Syrian troops have also shot civilian refugees fleeing violence.
The civil war in Syria has divided Lebanon, with some Sunni Muslim groups calling for supporting the majority-Sunni uprising against Assad's minority rule. Other factions say Lebanon should stay out of the crisis.
Rebel fighters have clashes in the past with the Lebanese army, which has historical ties to Damascus.
Reuters