Donor conference seeks $1.5 bln for Syrian refugees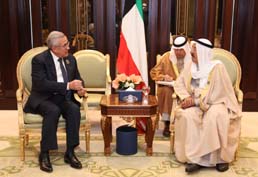 Saudi Arabia, Kuwait and the United Arab Emirates pledged $300 million each to help fund humanitarian efforts for millions of Syrians affected by nearly two years of conflict.
In his opening speech at the aid donor conference, Kuwait's Emir Sheikh Sabah al-Ahmad al-Sabah said that "horrifying reports" of violence had raised questions over the future of Syria and aid efforts had to be redoubled.
Speaking at the conference, U.N. Secretary-General Ban Ki-moon appealed to all combatants in Syria's civil war to stop fighting "in the name of humanity."
"I appeal to all sides and particularly the Syrian government, to stop the killing … in the name of humanity, stop the killing, stop the violence," he said.
The U.N. sponsored international humanitarian pledging conference convening in Kuwait Wednesday will seek to raise $1.5 billion of aid for Syria's neighbors, who are sheltering 700,000 registered refugees, and another $500 million to bankroll humanitarian work for 4 million Syrians inside their country.
About 77 local, regional and international charity organizations will take part in the conference.
On Tuesday, U.S. President Barack Obama announced an extra $155 million to aid refugees fleeing what he said was "barbarism" propagated by the government of President Bashar al-Assad.
This donation will raise U.S. financial aid for Syrians to $365 million.
Iran will be among 59 nations attending, Kuwait's foreign minister said earlier.
"The U.N. secretary general has sent out invitations to all countries and 59 nations are coming… Iran will be represented by the deputy foreign minister," Sheikh Sabah Khaled al-Sabah told a press conference.
He said neither the Syrian regime nor the opposition Syrian National Coalition have been invited.
King Abdullah II of Jordan and Lebanese President Michel Suleiman, both of whose countries are housing refugees, are also taking part of the conference.
In addition, 13 U.N. agencies involved in the humanitarian and relief field and 17 non-governmental organizations will take part.
When asked whether some of the money may reach the Syrian regime, Sheik Sabah said each donor country will determine how the money it donates, how it should be distributed and through whom.
On Tuesday, charity organizations pledged $182 million during a meeting hosted by the International Islamic Charitable Organization of Kuwait, state news agency KUNA reported.
Lebanon asks for $370 million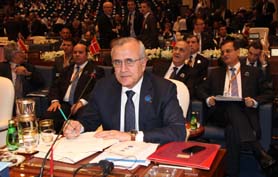 President Suleiman , who held talks with the Kuwaiti emir ahead of the conference, urged the donors on Wednesday to provide Lebanon with $370 million assistance for refugees from Syria and called for countries to take in some of the displaced after ringing the alarm bell.
The government has approved a $370 million comprehensive plan for the refugees – $180 for Lebanese state institutions and $190 for international agencies, he told the International Humanitarian Pledging Conference for Syria held in Kuwait.
While stressing that "Lebanon insists on preserving its embracing role," he rang the alarm bell, saying the influx "has repercussions on the social and economic situation" in the country.
He expressed hope that the government's $370 million plan would be approved during the conference and that several countries would open their doors for refugees currently in Lebanon.
Despite expectations of a higher influx in the coming months, the "government insists on keeping the border open," Suleiman said.
The Lebanese delegation included deputy PM Samir Moqbel, Foreign Minister Adnan Mansour and Social Affairs Minister Wael Abu Faour.
In remarks to Voice of Lebanon radio (93.3), Mansour reiterated his rejection of setting up camps for the refugees, saying "their presence is temporary."
The official number of refugees in Lebanon is over 215,000, but the actual number is more than double according to observers , because many Syrian stay with their relatives in Lebanon and do not bother to register
Al Arabiya, agencies