Turkish PM: Assad surpassed his father in brutality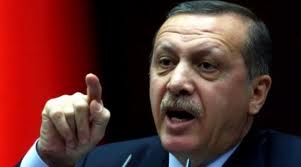 Turkish Prime Minister Recep Tayyip Erdogan on Sunday visited a Syrian refugee camp in Nizip town of the southeastern Turkish province of Gaziantep.
Delivering a speech to the Syrian refugees staying in the tent camp, Erdogan said that Syrian people was marching towards victory with each passing day.
"We are proud as much as you are of the resistance of the heroic Syrian people who is fighting for their dignity, honor, independence, future and freedom. Your righteous struggle will be crowned with victory sooner or later," Erdogan told the refugees. His speech was translated to Arabic through an interpreter.
Erdogan said Turks welcomed Syrian refugees as their own brothers and sisters. "You are at your own home. We are proud to share our bread, tents and blankets with you."
Erdogan said Syrian President Bashar al-Assad had surpassed his late father Hafez al-Assad in brutality, adding the Syrian president would not escape unpunished for the crimes he committed.
"He will be tried before the justice of the Syrian people," Erdogan said.
WB