Turkey sees growing number of paralyzed Syrians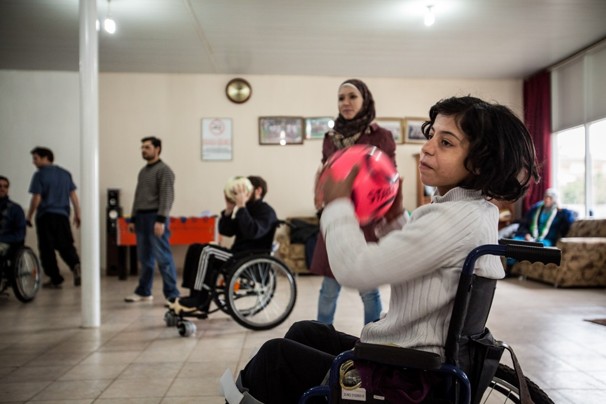 REYHANLI, Turkey — Most of the injured Syrians who check into the volunteer-run recovery center here stay only a few weeks, maybe a month. As soon as they regain strength and mobility, they find temporary housing in Turkey or return home to fight against the Syrian regime. A line of new patients waits to take their place.
Then there are those living on the ground floor: the paralyzed children, mothers and fighters who have been here for months and probably will not leave any time soon. Their spinal cords were severely damaged by snipers' bullets, shrapnel or blast impact. In most cases, they received basic aid in Syria and then, days or weeks later, traveled to a Turkish hospital for treatment.
Now they must learn to survive in a region filled with uneven pavement, steps instead of elevators and a general lack of services for the disabled.
Here in this Turkish town, just a few miles from a Syrian border crossing, the damage of the war is measured in more than the estimated death toll of 60,000. A plan for the future of Syria will have to include caring for the thousands with serious and permanent injuries, doctors and activists say.
"I'm sure people won't forget us fighters," said Ahmad al-Zier, 31, a father of two who was paralyzed from the waist down by two bullets while fighting against government forces in Idlib province, in northwestern Syria, eight months ago. "People will take care of us."
Syrians with disabilities, especially those living in rural areas, have long lacked access to government-­sponsored services, education or jobs, according to reports by advocacy groups. Data are scarce, but the World Bank estimated in 2002 that Syria had 500,000 to 1.4 million disabled citizens and that less than 5 percent of them had access to needed services.
In the past decade, the Syrian government had moved to improve its care of the disabled. But advocates say that progress was slow and that it stalled when the rebellion against the government began in 2011.
As the fighting has intensified, doctors working in Syria say they have struggled to treat the growing number of wounded in makeshift field hospitals with limited supplies. Some of the injured journey to hospitals in neighboring countries, such as Turkey, where they are usually treated and quickly released.
To help them, a group of Syrian expatriates started the 80-bed recovery and rehabilitation center in a former girls' dormitory in Reyhanli in August. Patients stay free of charge, and the center covers its $100,000 monthly expenses with donations and some money from aid organizations, according to the center's executive manager, Yasir Alsyed.
The number of paralyzed patients at the center has grown from three in the first few months to 22 this month, including four who have no use of any of their limbs. Most are men in their 20s and 30s, but there are also three children and four women.
"Sometimes the snipers target the head," said Housam al-
Mustafa, 26, a Syrian surgeon who said he escaped to Turkey after government officials caught him falsifying hospital records so that he could secretly treat injured anti-government activists. "Sometimes the snipers target the spinal cord, just to make them suffer in their life."
The doctors say they cannot discharge most of the paralyzed patients because there are few safe and accessible places for them to go. Alsyed wants to open a facility for the paralyzed, but he has yet to find a proper building. Meanwhile, each month he turns away about two dozen new patients with varying injuries.
Each day at the center, doctors guide the newly paralyzed through exercises to keep blood circulating to unused limbs and build upper-body strength. On Saturday morning, a group of volunteer physical therapists from around the world taught some of the patients how to maneuver their new wheelchairs over and around obstacles — one more step toward reclaiming their lost independence.
Refugee camps at capacity
Before the uprising, Zier owned a bakery. After he joined the opposition, he said, he was shot by government forces last spring. It took him two days to get to Turkey for an operation.
He said he wishes that his wife could travel here to care for him, but Turkey's refu­gee camps are at capacity, there is not enough space at the recovery center for the family to live, and he cannot afford to pay rent. Sometimes his wife calls with updates of where she and their two young children have moved within Syria in search of safety.
"I cannot provide for them," Zier said. "A lot of times, I think it would be better if I died than to be in this situation."
Across the hall lives a 10-year-old boy with a mischievous grin who said he was hit with shrapnel during an air attack by government forces in northern Syria more than three months ago. He has been at the recovery center for two months and now races along the short hallway in a wheelchair.
His roommate is a 42-year-old mother of eight who said she was shot in the back by a Syrian army sniper more than a month ago. She came to Turkey for surgery and arrived at the recovery center last week. "I just hope I can walk again after all of this," she said through tears. "I just want to see my children."
Hopes of a miracle
On the second floor, in a room painted pink, lives a 12-year-old girl named Maysa who said she was shot in the lower back by a government sniper four months ago just outside her two-room home in Kafr Rouma, a small village in Idlib. Maysa cannot feel or use her legs, but her mother sits on her bed each day and massages her feet in hopes of a miracle.
Maysa's father, a construction worker, also was shot that morning and died. Her mother carried her to a makeshift hospital near the village, but that, too, was attacked. Unable to return home, the woman and her children hid in a nearby cave.
A month later, rebel fighters found the family. Maysa's wounds had begun to smell and she had stopped talking, her mother said. The rebels agreed to watch the other seven children, who range in age from 5 to 14, while the mother smuggled her daughter into Turkey for medical treatment. That was three months ago, and the mother doesn't know where her other children are or whether they are safe.
Living at the recovery center after surgery, Maysa began to speak again. She is also starting to realize how her life has changed. The girl with inquisitive brown eyes and a short bob of dark hair now wears a diaper and is carried up and down the stairs.
"I don't know what will happen in the future," her mother said. "She doesn't have a father now. They destroyed our home. I have seven other children. I will have to take care of her. . . . I don't know. I don't know."
Washington Post