Helicopter crash in central London kills 2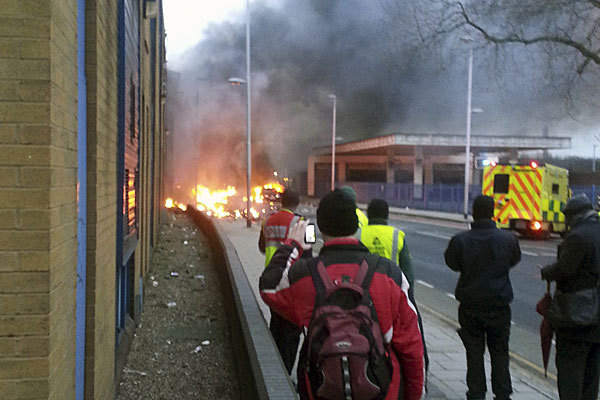 A helicopter apparently crashed into a crane atop a high-rise building in central London during the morning rush hour Wednesday, falling to earth and killing at least two people, police said.
Video footage showed flaming debris on the ground where the chopper came down in the Vauxhall district of south London, close to the headquarters of MI6, Britain's spy agency.
Scotland Yard said two people were confirmed dead at the scene, with two others taken to the hospital. A fire official told the BBC that one of the dead had been aboard the helicopter. Authorities quickly cordoned off the area and shut down Vauxhall rail station.
[Update, 4:26 a.m. Jan 16: Later Wednesday morning, police said one of the dead was the chopper's pilot. The other victim has not been identified, but the helicopter was not believed to be carrying passengers, police said.
"At this stage, it appears a commercial helicopter on a scheduled flight was in collision with a crane on top of a building under construction," Scotland Yard said in a statement.
Police said seven people were treated on the scene for minor injuries. Six people were taken to local hospitals, all for minor injuries except for one person who suffered a broken arm.]
The crash occurred on a gray morning with thick clouds or fog lying low in the sky. Police did not speculate as to the cause of the crash, but the BBC reported that terrorism did not appear to be likely.
Nicky Morgan, a member of Parliament who was walking toward Vauxhall, told the broadcaster that she heard a huge explosion shortly before 8 a.m., a time when commuters and schoolchildren were going about their usual routine.
"I did wonder if it was a bomb explosion, because it was just such a loud bang," she said. "It was the thick black smoke that really meant that this is not right."
Helicopters are common in London, particularly around the city's financial district where many tall buildings are clustered.
The crash site is near the Nine Elms neighborhood south of the Thames, where the U.S. is planning to build a large new embassy.
LA Times