Deadly explosion rocks Syria's Aleppo University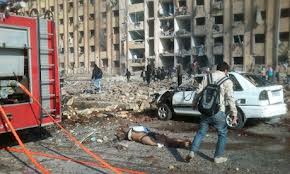 In a bloody day for Syria as it marked 22 months since the eruption of an anti-regime revolt that has morphed into a fullscale civil war, a bomb rocked Aleppo University in the country's north killing at least 15 people, while 45 others died in shellings and air raids elsewhere, a watchdog said.
Contradictory reports emerged on the origin of Tuesday's blast in Aleppo University, which struck the campus on the first day of exams.
"The explosion caused casualties among both students on their first day of exams, and people displaced from areas of the city damaged by terrorist attacks and who have sought refuge in the university complex," said the official SANA news agency.
State television blamed "terrorists", without specifying the nature of the explosion, while anti-regime activists said it was the caused by an air strike.
A military official in Aleppo said the explosion occurred after rebels tried to shoot down a warplane with a missile, but failed to hit their target.
Other sources said a car bomb attack was behind the blast.
Elsewhere in Syria, an artillery attack on the town of Houla in the central province of Homs meanwhile killed 12 people, including seven minors, the Observatory said.
In Homs city, warplanes struck the besieged districts of Jobar and Sultaniyeh, while in the northern province of Aleppo, an air raid in on the rebel-held town of Al-Bab killed at least eight people, including three women and two children.
Near Damascus, warplanes raided the southeast and northeast outskirts of the capital, where the army is pressing its bid to take back rebel strongholds, said the Observatory, which relies on a network of activists, doctors and lawyers across Syria to compile its reports.
The United Nations says that more than 60,000 people have died in the Syria conflict which began 22 months ago, on March 15, 2011, with peaceful protests that erupted into deadly violence in the wake of a harsh regime crackdown.
ME online