57 injured in New York City ferry crash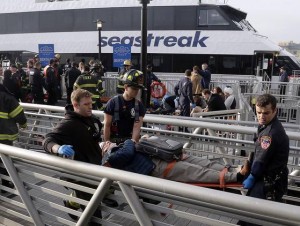 A high-speed commuter ferry slammed into a Lower Manhattan dock Wednesday, injuring 57 people, authorities said.
Officer Sophia Tassy, a spokeswoman for the NYPD, said the SeaStreak ferry, a commuter run from New Jersey to lower Manhattan along the East River, crashed during a hard landing around 8:43 a.m ET.
Fire Department Commissioner Sal Cassano said two people were critically injured and that many of the injured were taken to hospitals in Manhattan and Brooklyn. There were 326 people on board, including five crewmembers, he said.
Cassano added that fire officials responded within three minutes of receiving the call. On the scene, 155 firefighters and emergency medical technicians assessed patients.
"At this present time we are wrapping up our operation," he said.
The Coast Guard and National Transportation Safety Board are investigating, New York Police Commissioner Ray Kelly said.
The ferry, which left Highlands, N.J., at 8 a.m., actually struck a loading barge that it was passing while trying to dock, SeaStreak President James Barker told New York's WNBC-TV.
"There was a jolt when that occurred, throwing the people forward into their seats and the walls," Barker told the station.
"We just tumbled on top of each other. I got thrown into everybody else. … People were hysterical, crying," Ellen Foran, 57, of Neptune City, N.J., told the Associated Press.
Some patients were carried out strapped to stretchers, their heads and necks immobilized. About a dozen passengers on stretchers were spread out on the dock, surrounded by emergency workers, AP reports. Mayor Michael Bloomberg was on the scene.
Passenger Frank McLaughlin, 46, told AP he was thrown forward and wrenched his knee in the impact. He said some other passengers were bloodied when they banged into walls and toppled to the floor.
Dee Wertz, who was on shore, waiting for the ferry, saw the impact.
"It was coming in a little wobbly," she said. "It hit the right side of the boat on the dock hard, like a bomb."
The waterside area in downtown Manhattan was filled with police, firefighters, transportation workers and media. News helicopters were flying overhead.
The SeaStreak ferry service offers high-speed catamaran services to points in Manhattan from central New Jersey with a fleet of five ferries, the company says on its website. Four of the ferries have capacities of up to 400 passengers and one with capacity of up to 149 passengers.
The ferry is considered high-end. It has a bar on board and costs a bit more than most ferries.
Photo: New York City firefighters remove an injured passenger from the SeaStreak ferry.
USA Today