Mikati, former PM's agree over Islamic council elections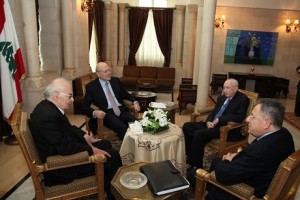 Lebanese Prime Minister Najib Mikati met on Monday with former PMs Salim al-Hoss, Omar Karami and Fouad Siniora to discuss the Higher Islamic Council elections.
" We left all disputes outside the meeting room because the unity of the Sunni confession is the most important," Mikati was quoted as saying by National News Agency.
The current PM also said that he would visit Grand Mufti of the Lebanese Republic Sheikh Mohammed Rashid Qabbani Monday evening to inform him of the results of the meeting.
"We have agreed not to announce the decisions that have been made before presenting them to the mufti."
This development comes after Qabbani announced on Monday that the elections of the Higher Islamic Council will be carried out during the last week of February. He canceled on Thursday his decision to call for the election of members of the Higher Islamic Council on Dec. 30.
Last week, the Shura Council suspended the elections set by Qabbani for Dec. 30 after 21 Higher Islamic Council members, who are close to former PM Saad Hariri's Future Movement, filed a challenge against the mufti's call.
They described the elections for the Council that elects the mufti and organizes the affairs of Dar al-Fatwa as illegal over Qabbani's failure to consult them before making his call.
Qabbani's ties with Future Movement deteriorated last year when he met with a delegation from Hezbollah the same day the Special Tribunal for Lebanon indicted four party members in ex-Premier Rafik Hariri's Feb. 2005 assassination.
Ties between the two sides went also downhill when the mufti met with Syrian Ambassador Ali Abdul Karim Ali, whom aFuture Movement and the March 14 opposition alliance have on several occasions said should be expelled.
Last Saturday, deputy of the Grand Mufti Omar Mesqawi said that the Higher Islamic Council is the only body that has the authority to call for the election of its members.