Fighting Drives an Old Sense of Peace From Damascus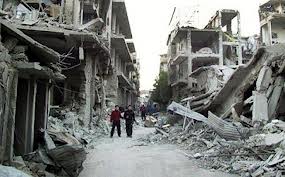 Business has been terrible for Abu Tareq, a taxi driver, so last week, without telling his wife, he agreed to drive a man to the Damascus airport for 10 times the usual rate. But, he said later, he will not be doing that again.
On the airport road, he could hear the crash of artillery and the whiz of sniper fire. Dead rebels and soldiers lay on the roadsides. Abu Tareq saw a dog eating the body of a soldier.
"I will never forget this sight," said Abu Tareq, 50, who gave only a nickname for safety reasons. "It is the road of the dead."
Damascus, Syria's capital, is one of the world's oldest continuously inhabited cities, a touchstone of history and culture for the entire region. Through decades of political repression, the city preserved, at least on the surface, an atmosphere of tranquillity, from its wide downtown avenues to the spacious, smooth-stoned courtyard of the Umayyad Mosque and the vine-draped alleys of the Old City, where restaurants and bars tucked between the storehouses of medieval merchants hummed with quiet conversation.
Now, though, the rumble of distant artillery echoes through the city, and its residents are afraid to leave their neighborhoods. Cocooned behind rows of concrete blocks that close off routes to the center, they huddle in fear of a prolonged battle that could bring destruction and division to a place where secular and religious Syrians from many sects — Sunni, Shiite, Alawite, Christian and others — have long lived peacefully.
For more than a week, Syrian rebels and government forces have fought for the airport road, as the military tries to seal off the capital city, the core of President Bashar al-Assad's power, from a semicircle of rebellious suburbs. Rebels have now kept the pressure on the government for as long as they did during their previous big push toward Damascus last summer. This time, improved supply lines and tactics, some rebels and observers say, may provide a more secure foothold.
But the security forces wield overwhelming firepower, and while they have been unable to subdue the suburbs, some rebel fighters say they lack the intelligence information, arms and communication to advance. That raises the specter of a destructive standoff like the one that has devastated the commercial hub of Aleppo.
"Damascus was the city of jasmine," Mahmoud, 40, a public-school teacher, said in an interview in the capital. "It is not the city I knew just a few weeks ago."
Car bombs have ripped through neighborhoods, the targets and attackers only guessed at. Checkpoints choke traffic, turning 20-minute jaunts into three-hour ordeals. Wealthy residents find it quicker and safer to drive to Beirut, Lebanon, for a weekend trip than to the Old City.
Shells have been fired from Mount Qasioun overlooking Damascus, a favorite destination from which to admire the city's sparkling lights. West of downtown, where the palace stands on a plateau, things are relatively quiet. But from the mountain, puffs of smoke can now be seen over suburbs in an arc from northeast to southwest.
Mahmoud, unable to find heating oil and medicine for his sick wife, said his grocer has lectured him daily on shortages and soaring prices. The once-ubiquitous government, he said, now appears to have no role beyond flooding streets with soldiers and security officers, "who are sometimes good and sometimes rude."
People with roots in other towns have left, he said, "but what about me, who is a Damascene, and has no other city?"
The sense of claustrophobia has grown as rebels have declared the airport a legitimate target and the government has blocked Baghdad Street, a main avenue out of the city. On Sunday, it blocked the highway south to Dara'a.
In some outlying neighborhoods and nearby suburbs, the front lines seem to be hardening.
On the route into Qaboun, a neighborhood less than two miles from the center of Damascus, the last government checkpoint in recent days was near the municipal building. Less than a quarter-mile on, rebels controlled the area around the Grand Mosque.
Abu Mohammad, 40, the leader of a 20-member rebel unit, met a reporter in a vacant house he used as an office. He wore a black uniform and carried a radio. He said rebels controlled Qaboun except for three sections primarily populated with members of Mr. Assad's minority Alawite sect. Alawites, he said, had pushed Sunni residents from their homes to make room for Alawites fleeing other areas.
Rebels had learned, he said, from the mistakes of July, when they invaded a southern Damascus neighborhood, Midan, but were driven out after a week "because we didn't protect our back."
This time, he said, rebels "liberated" the countryside first, then the suburbs, and now have secure rear lines as they attack the city's edges.
He said rebels had established continuous lines of communication along three routes radiating from Damascus through pro-rebel suburbs: northeast from Barza through Qaboun to Douma and the partly rebel-held eastern desert; southeast from Tadamon to the city of Dara'a, the cradle of the uprising; and southwest from Kafr Souseh to Quneitra, an area at the foot of the Golan Heights that contributes many fighters.
His claims could not be independently confirmed. The areas he mentioned have held many demonstrations and have been hit hard by government forces. A Western diplomat recently in Damascus said rebels appeared to be improving their supply lines by digging tunnels.
Yet other fighters questioned the tactics for Damascus.
"There is not enough military intelligence to get into Damascus," said a fighter who recently left the capital. "The head does not know what the tail is doing."
He said rebels tried to seize control of the road from Damascus to the northeast, but the attack was "not well thought out." They took heavy casualties, eventually carrying out the attack on the airport as a diversion to allow fighters to escape. In turn, he said, "the regime unleashed an unbelievable level of violence because it thought it was in real danger."
An activist added, "It was like when a small kid slaps an adult, and he responds by slapping back with all his might."
Rebels say both they and government soldiers suffer from exhaustion and hunger. The government, fearing that soldiers will defect, rarely sends them to fight in close encounters. But that fear has also made the government turn to artillery, imprecise weaponry that lays waste to neighborhoods.
That is what Damascus residents worry is next for their city.
They cling to the hope that the ethnic strife that has deepened when fighting has reached other areas will not arise in their city. Already, violence has engulfed suburbs that had been a haven to waves of Palestinian and Iraqi refugees.
For now, residents say they have faith in the city, whose very architecture evokes intimacy, and whose welcoming air has for centuries entranced residents, pilgrims, merchants and visitors.
"Every house clings/ to the waist of another / as verandas hold hands," Nizar Qabbani, an acclaimed 20th-century Syrian poet, wrote, of the Old City in Damascus where he grew up. In a widely beloved poem, now often quoted as an elegy for a threatened Damascus — the Syrian-American hip-hop artist Omar Offendum did his own interpretation — Mr. Qabbani wrote:
Damascene houses are houses in love.
They wake up each morning
to greet one another,
and pay each other visits
in secret
at night.
One antigovernment activist, now in Beirut, said he pined for the neighborhoods where he had strolled with his girlfriend, and feared for their fate.
"I went with my love all over Damascus," he said. "The memory is tied to the place.
NY Times