Mufti Shaar extends his stay in Europe for security reasons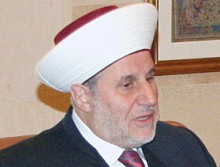 The Mufti of Tripoli and North Lebanon Sheikh Malek al Shaar told "Voice of Lebanon radio station that he decided to extend his stay in Vienna, where he participated in the opening of King Abdullah Center for Interfaith Dialogue after receiving several calls from Beirut advising him not to return to Lebanon.
He told VOL that he intends to move later from Vienna to Paris, where he will stay for several days.
"I have received security warnings and tips not to return to Lebanon" , he said
In another interview with Kuwaiti newspaper al Seyasseh he revealed that he received "warnings of a plot to assassinate him."
He also confirmed that he had received warnings from the Lebanese security authorities over his plans to return to Lebanon, asking him to extend his stay abroad wait and to take the utmost caution.
He pointed out that he wants to return as soon as posible to serve his Muslim community in north Lebanon.
Mufti Shaar is closely associated with former PM Saad Hariri who has been outside the country for more than a year for security reasons.
tension in Lebanon escalated following the assassination on October 19 of Lebanese International Security intelligence chief Brig. Gen. Wissam al-Hassan, who was also closely associated with Hariri. Syria and Hezbollah were accused of being behind Hassan's murder.
The current cabinet in Lebanon is dominated by the Iranian and Syrian backed Hezbollah militant group which is supporting Syrian president Bashar al Assad in his crackdown against the uprising . Over 41,000 have been killed so far since the uprising began on March 15, 2011