Egyptian courts suspend work to protest Morsi move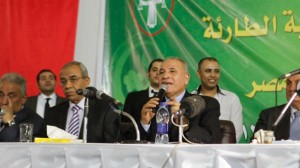 Egypt's Cassation and Appeals courts said on Wednesday they would suspend their work pending a ruling on the constitutionality of President Mohamed Mursi's decree granting him immunity from judicial review.
"The Cassation Court will suspend its work starting today," the court's vice chairman, Abdel Nasser Abu al-Wafa, said after a meeting of the court's top officials, according to AFP.
Khaled Abdellah, a judge in the Appeals Court, said after a similar meeting that his court would also suspend its work "except in cases related to corruption and personal laws".
Egypt's Supreme Constitutional Court, meanwhile, accused President Mursi of an unjustified attack on its independence when he gave his reasons for issuing a decree that expanded his powers and placed him beyond judicial oversight.
"There was an attack against the court, false information was circulated about it… but the real sadness for its judges was that the president of the republic joined in the attack against the constitutional court," its head Maher al-Beheiry told reporters.
He denied Mursi's accusations that the court was biased or had leaked rulings to the media, and called on the president to provide evidence.
Obscurity
Critics of Mursi's decree fear it puts at risk the entire democratic transformation in Egypt, run for decades by army-backed autocrats. The Mursi administration has defended the decree as a temporary step needed to smooth the transition to a new system of government. It guarantees new steps to investigate violence against protesters during the uprising against Mubarak.
The president's only public appearance since the decree was to Islamist supporters outside his presidential offices.
Liberal politician Mohamed ElBaradei said Mursi had not given "a whiff of an indication" that he had anything of the sort in mind when they met in the days before the announcement.
"You assume that if somebody, the president, is going to take sweeping measure grabbing all powers that he will at least consult before. There was no consultation at all. That doesn't show the best of good intentions or good will," he told Reuters.
"He didn't mention anything of that kind," added Amr Moussa, the former Arab League secretary general who ran in the presidential election and met Mursi three weeks ago. He was also speaking to Reuters.
Brotherhood spokesmen routinely refer questions about Mursi to the president's staff, saying they cannot speak for him.
Brotherhood spokesman Mahmoud Ghozlan dismissed the accusations that the group shapes presidential policy as one of an endless list of fabrications against the group.
"The president has many legal experts and I think they wrote it," he said, referring to the decree.
Justice Minister Ahmed Mekky, a judge broadly respected for his independence in the Mubarak era, has studiously avoided answering journalists' questions on whether he knew about the decree in advance. He has since expressed his "reservations".
Al Arabiya