Egypt's stock market plunges after Morsi's power grab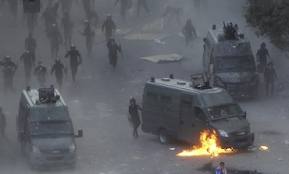 Egypt's stock market plunged on Sunday in its first day open since Islamist President Mohammed Morsi's seizure of new powers set off street violence and a political crisis, unravelling efforts to restore stability after last year's revolution.
More than 500 people have been injured in protests since Friday, when Egyptians awoke to news Mr. Morsi had issued a decree temporarily widening his powers and shielding his decisions from judicial review.
Mr. Morsi and the judiciary hinted at compromise to avert a full-scale political crisis.
The Supreme Judicial Council said Mr. Morsi's decree should apply only to "sovereign matters". Although it did not specify what that meant, its statement, read on television, suggested it did not reject his decree outright. It called on judges and prosecutors who have called for a strike to return to work.
Mr. Morsi's office repeated assurances that the measures would be temporary, and said he wanted dialogue with political groups.
"This declaration is deemed necessary in order to hold accountable those responsible for corruption as well as other crimes during the previous regime and the transitional period," the presidency said in a statement.
Justice Minister Ahmed Mekky, who has said he has some reservations over Mr. Morsi's decree, launched an effort to mediate between Mr. Morsi and judges.
Meanwhile, Egypt's powerful Muslim Brotherhood called for nationwide demonstrations Sunday in support of President Mohammed Morsi in his showdown with the judges over the path to a new constitution.
The show of strength on the streets by the president's supporters had the potential for triggering clashes with opponents of the sweeping new powers he assumed on Thursday who remained camped out in Cairo's Tahrir Square.
Before dawn, the hardcore of liberal activists who spent the night in the iconic protest hub fought off an attempt by Morsi supporters to burn down the 30 or so tents they had erected in the square, witnesses said.
Anti-riot police began erecting a concrete barrier to keep the Tahrir protesters away from nearby government buildings, witnesses said, adding that they have made a string of arrests in streets surrounding the square.
The U.S. embassy said it had advised its staff to avoid the city centre "to the extent possible until further notice."
"As a matter of general practice, U.S. citizens should avoid areas where large gatherings may occur," it added in a security notice on its website.
"Even demonstrations or events intended to be peaceful can turn confrontational and possibly escalate into violence."
The Muslim Brotherhood has also called a "million man" demonstration for Tuesday on Abdeen Square, not far from Tahrir.
Sunday's stock market fall of nearly 10 percent – halted only by automatic curbs – was the worst since the uprising that toppled Hosni Mubarak in February, 2011.
Images of protesters clashing with riot police and tear gas wafting through Cairo's Tahrir Square were an unsettling reminder of that uprising. Activists were camped in the square for a third day, blocking traffic with makeshift barricades. Nearby, riot police and protesters clashed intermittently.
Mr. Morsi's supporters and opponents plan big demonstrations on Tuesday that could be a trigger for more street violence.
"We are back to square one, politically, socially," said Mohamed Radwan of Pharos Securities, an Egyptian brokerage firm.
Mr. Morsi's late Thursday decree marks an effort to consolidate his influence after he successfully sidelined Mubarak-era generals in August. It reflects his suspicions of a judiciary little reformed since the Mubarak era.
Issued just a day after Mr. Morsi received glowing tributes from Washington for his work brokering a deal to end eight days of violence between Israel and Hamas, the decree drew warnings from the West to uphold democracy. Washington has leverage because of billions of dollars it sends in annual military aid.
"The United States should be saying this is unacceptable," former presidential nominee John McCain, ranking Republican on the Senate Armed Services Committee, said on Fox News.
"We thank Mr. Morsi for his efforts in brokering the cease fire with Hamas…. But this is not what the United States of America's taxpayers expect. Our dollars will be directly related to progress toward democracy."
Forged out of the once-banned Muslim Brotherhood, the Morsi administration has defended his decree as an effort to speed up reforms that will complete Egypt's democratic transformation.
Yet leftists, liberals, socialists and others say it has exposed the autocratic impulses of a man once jailed by Mubarak.
"There is no room for dialogue when a dictator imposes the most oppressive, abhorrent measures and then says 'let us split the difference'," prominent opposition leader ElBaradei said on Saturday in an interview with Reuters and the Associated Press.
Floating one possible way out of the crisis, political scientist Moataz Abdelfattah said he had told Mr. Morsi's advisors that the president should issue an "explanatory memo" outlining what he would and would not do with the decree.
Investors had grown more confident in recent months that a legitimately-elected government would help Egypt put its economic and political problems behind it. The stock market's main index had risen 35 percent since Morsi's victory. It closed on Sunday at its lowest level since July 31.
Political turmoil also raised the cost of government borrowing at a treasury bill auction on Sunday.
"Investors know that Morsi's decisions will not be accepted and that there will be clashes on the street," said Osama Mourad of Arab Financial Brokerage.
Just last week, investor confidence was helped by a preliminary agreement with the International Monetary Fund over a $4.8-billion (U.S.) loan needed to shore up state finances.
Mr. Morsi's decree removes judicial review of decisions he takes until a new parliament is elected, expected early next year.
It also shields the Islamist-dominated assembly writing Egypt's new constitution from a raft of legal challenges that have threatened it with dissolution, and offers the same protection to the Islamist-controlled upper house of parliament.
"I am really afraid that the two camps are paving the way for violence," said Hassan Nafaa, a professor of political science at Cairo University. "Morsi has misjudged this, very much so. But forcing him again to relinquish what he has done will appear a defeat."
Many of Mr. Morsi's political opponents share the view that Egypt's judiciary needs reform. Mr. Morsi's new powers allowed him to sack the prosecutor general, a holdover from the Mubarak era who is unpopular among reformists of all stripes. But his liberal critics see the decree as a threat to democracy.
"What is confusing is that it seems the revolutionaries are meshing with the remnants of the old regime," said Mr. Nafaa.
The Globe and Mail