Russia opposes NATO missile deployment on Turkey-Syria border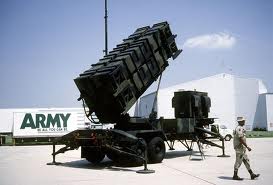 Russia opposes the possible deployment by NATO of Patriot missiles near Turkey's border with Syria, the foreign ministry said on Thursday.
"This would not foster stability in the region," Foreign Ministry spokesman Alexander Lukashevich said of Turkey's request for deployment to the Western military alliance.
NATO ambassadors met on Wednesday to consider Turkey's request, which followed weeks of talks between Ankara and NATO allies about how to shore up security on its 900-km (560-mile) border to avoid a spillover from the Syrian civil war.
French Foreign Minister Laurent Fabius said in Paris on Thursday that France backed Turkey's request.
"There is no reason to object, it is purely defensive," he told BFM TV.
Turkey has repeatedly scrambled fighter jets along the frontier and responded in kind to stray shells flying into its territory during the conflict in Syria, where an estimated 38,000 people have been killed since an uprising against President Bashar al-Assad's government began in March 2011.
"The militarisation of the Syrian-Turkish border is an alarming signal," Lukashevich told a weekly briefing.
"Our advice to our Turkish colleagues consists of something else entirely: to use its potential influence on the Syrian opposition to seek the start of an inter-Syrian dialogue as swiftly as possible, and not to flex muscles and move the situation in such a dangerous direction," he said.
Russia has vetoed three U.N. Security Council resolutions aimed at putting pressure on Assad and accuses the West of encouraging militants fighting his government.
Russia denies trying to prop up Assad, whose nation has been an avid buyer of its weapons and hosts a naval supply facility that is Moscow's only military base outside the ex-Soviet Union.
It says the crisis in Syria must be resolved without foreign interference, particularly military intervention, and that Assad's exit from power should not be imposed as a precondition for a political solution.
NATO was Moscow's Cold War opponent and Russia has repeatedly expressed concern about deployments relatively close to its borders by the Western alliance, which has expanded to include several former Soviet satellites and republics.