Geagea tells Berri: Shame on you for convening parliament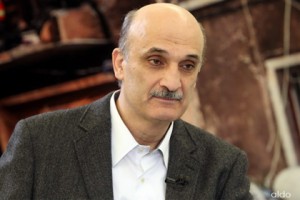 In an open letter to Speaker Nabih Berri, Lebanese Forces leader Samir Geagea condemned the continued parliamentary meetings in light of the 25 assassinations and failed assassination attempts in Lebanon in the past few years.
"Isn't it a crime to convene parliament as if nothing has happened after the 25 assassinations and failed attempts?" Geagea asked.
"Don't you feel ashamed to meet at parliament with a political camp that has been legally accused of being behind the assassination of former Prime Minister Rafik Hariri?" asked the LF leader in reference to the four Hezbollah members who were indicted by the Special Tribunal for Lebanon in the 2005 assassination of Hariri. Hezbollah refused to hand over the suspects and the Lebanese authorities have failed to arrest them and they remain at large.
"Tell me, isn't it a crime that six MPs have been killed for political purposes since 2005 without parliament ever calling for a stop to these crimes ?" he said
"No one was held accountable for the assassinations and no plan was set in place to stop them", he stressed.
"What kind of political life is this when we are living under the constant threat of political violence and assassinations?" Geagea asked Berri.
"Aren't you covering up the crimes, directly and indirectly, by acting normally after each crime is committed?" he asked.
"I believe it is time to call for an end to political assassinations," Geagea stressed to the speaker.
Geagea declared: " No , we will not perform any routine duty until assassinations in Lebanon end."
March 14 alliance in Lebanon had demanded that PM Nagib Mikati should step down over the assassination of Internal Security Forces Information Branch chief Wissam al-Hassan for which the Syrian regime of Bashar al Assad was blamed . The opposition also called for boycotting the Lebanese parliament until the perpetrators are found and brought to justice
Mikati's government which is dominated by Hezbollah was reportedly made in Syria.
Hassan was killed in a massive car bomb in Beirut's Ashrafiyeh district on October 19.
Naharnet