Aridi warns over toppling Lebanon cabinet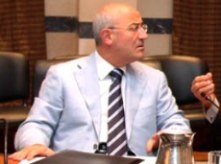 Lebanon's public works and transportation minister Ghazi Aridi warned that Lebanon will be living by the law of the jungle if the government is toppled.
"In the event the government gets toppled, we will be living by the law of the jungle with nothing to stop us," National News Agency (NNA) quoted Aridi as saying on Wednesday.
Aridi, who represents in the cabinet the Progressive Socialist Party which is headed by MP Walid Jumblatt , added that "it is necessary to go back to the institutions and maintain them in order for us to put our minds at ease."
Aridi's comments come after media reports that Jumblatt would rename Prime Minister Najib Mikati to head a new Lebanese cabinet if there is no agreement on a national unity cabinet. The report also revealed that Jumblatt has formed an alliance with Speaker Nabih Berri, president Michel Suleiman and Mikati
March 14 alliance in Lebanon had demanded that PM Mikati should step down over the assassination of Internal Security Forces Information Branch chief Wissam al-Hassan for which the Syrian regime of Bashar al Assad was blamed .
Mikati's government which is dominated by Hezbollah was reportedly made in Syria.