U.S. to accelerate aid to new Syrian opposition group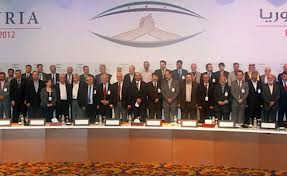 U.S. officials are relieved now that Syria's disjointed opposition has finally succeeded in creating a united front.
"What happened over the weekend was huge," a senior administration official told CNN. "I think it's fair to say that most of us were pessimistic, but the opposition did it. They have a long way to go, but this was a major step forward."
Nevertheless, the official admitted: "We are cautiously optimistic at best."
The United States has been pressing the opposition to unite and officials now say the Obama administration is urging the new National Coalition for Syrian Revolutionary and Opposition Forces to quickly form a technical working group with which it can coordinate assistance.
The State Department is sending a high-level delegation to an emergency aid meeting in London on November 16. Ambassador William Taylor, who was present in Doha, Qatar, where the new coalition was created, will lead the U.S. officials at that meeting.
The United States, the official said, will seek to "accelerate and increase assistance to the Syrian people."
"In the short term, we will continue the non-lethal aid," the official explained. "However, you will see us now looking to coordinate and pony up cash assistance to assist a new government in transition efforts."
The United States, however, is not opening the spigots immediately on further aid to the new opposition coalition, insisting that it must respect human rights and guarantee equal treatment for all Syrian citizens.
Beth Jones, acting assistant secretary of state for Near Eastern affairs, who headed the U.S. delegation to Doha, said U.S. cooperation will be based on the opposition's adherence to two declarations it signed in Cairo last July: the National Compact and the Transition plan.
The two documents pledge "full equality of citizenship regardless of their origin, color, sex, language, ethnicity, political opinion, religion, or sect." The declaration also promises to remove all forms of discrimination against women.
Asked whether U.S. aid would be disbursed according to how Washington evaluates how the coalition meets the criteria – the senior administration official told CNN: "Though we have yet to say that explicitly, that's a fair characterization."
"But it's more about positive reinforcement, rather than negative," the official said. "We want them to know that we and the international community will be there to support them as a democratic transition goes forward."
Syria expert Andrew J. Tabler of The Washington Institute, however, cautioned that division inside the Syrian opposition is "very real."
"Now we have an umbrella organization inside of an umbrella organization," he told CNN.
"We have the SNC, which is dominated by exiles – in itself a collection of Muslim Brotherhood, Salafists and liberals – now under the umbrella of another organization with a lot of older national figures. The good news is there are 14 people from local councils but the circumstances of their selection are not clear. … There aren't any armed representatives on this council. It represents civilians but the question is how are you going to coordinate with the military end?"
For now, the Obama administration is limiting its assistance for the Syrian opposition to "humanitarian and non-lethal" aid. But Tabler said "We're going to have to go to something more lethal that protects people and supports the opposition or Assad is going to stay there for a while."
The United States might, he said, support a "safe zone" using Patriot missiles in which Washington would let its allies do the arming.
"But the problem," he said, "is that our allies – like Qatar and Saudi Arabia specifically – they share our short-term interest of bringing down the Assad regime but not our long-term interest of a secular and democratic Syria."
For now, the U.S. aim in helping the opposition, the State Department said, is to force Syrian President Bashar al-Assad to leave office.
"We look forward to supporting the National Coalition," it said in a statement that congratulated the opposition for creating the new coalition "as it charts a course toward the end of Assad's bloody rule and the start of the peaceful, just, democratic future that all the people of Syria deserve."
CNN