Brother of another Hezbollah MP linked to drug scandal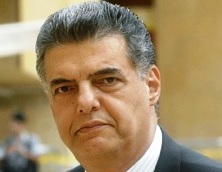 Lebanon's Parliamentary Health Committee chief revealed on Monday that in addition to the brother of of Minister of State for Administrative Reform MP Mohammad Fneish the brother of a Hezbollah lawmaker was also involved in the most recent pharmaceutical scandal.
"I was informed that the brother of a Hezbollah lawmaker is also implicated in the drug forgery case, Atef Majdalani told Future News television. He added : This is in addition to the alleged involvement of the brother of Minister of State for Administrative Reform Mohammad Fneish".
Majdalani also criticized Lebanese judicial authorities for not acting immediately on the case.
"The warehouses and offices of the implicated companies should be shut down and the criminals need to be pursued, but up until now no measures have been taken."
A scandal pertaining to illegally imported pharmaceutical products was uncovered in Lebanon last week amid reports that the brother of Fneish, who represents Hezbollah in the cabinet was involved in the case. Some media outlets reported that four of the involved companies have relations with Hezbollah.
The current government is dominated by the Iranian and Syrian backed Hezbollah.
Photo: Lebanon's Parliamentary Health Committee chief MP Atef Majdalani