Syria's SNC elects a Christian as its new leader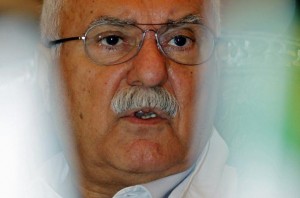 The Syrian National Council, the main opposition body outside the country in the uprising against President Bashar al-Assad, elected veteran activist George Sabra as its head on Friday.
Sabra, a Christian, takes over a body that has come under heavy criticism from international allies for being ineffective in the fight against the Syrian government and for being riven by personal disputes.
Sabra immediately appealed for arms to fight Assad's forces. "We need only one thing to support our right to survive and to protect ourselves: we need weapons, we need weapons," he told reporters after his election by the SNC's executive council which has met this week in Qatar.
The SNC will start talks on Saturday with other Syrian factions including representatives of rebel groups inside Syria on forming a new, wider body that hopes to gain international recognition as a government-in-waiting.
Qatar, the United States and other powers are pressing the Syrian opposition groups to come together. Western countries and Syria's neighbors fear that hardline Islamist groups close to al Qaeda are growing in influence among rebels on the ground in Syria.
Qatar has hosted hundreds of figures from the SNC and other groups over the past week in five-star hotels, while U.S. diplomats have hovered on the sidelines to prod them towards an agreement. However, the SNC is worried that its influence will be diluted in any new body.
Sabra beat one other candidate to succeed Abdulbaset Sieda, a Kurd resident in Sweden, who took over from the SNC's first leader Burhan Ghalioun.
Muslim Brotherhood figure Mohammed Farooq Taifoor was elected as Sabra's deputy. The Brotherhood, a moderate Islamist group with affiliates around the Arab world, is seen as the dominant force within the SNC.
Sabra said his election showed that there was no sectarianism in the SNC. "The people here are Muslims and they elected a Christian," he said.
Sabra comes from the mixed Damascus suburb of Qatana and marched in early street demonstrations demanding Assad's removal last year before fleeing the country when secret police began targeting prominent pro-democracy campaigners.
A 65-year-old geography teacher, Sabra was known as a fierce critic of Assad before the uprising began. He is close to Riad al-Turk, a famed opposition figure who still operates underground in Syria.
Sabra is one of the writers of the Arabic version of the popular children's TV show Sesame Street.
Surprise
In order to become the head of the Syrian National Council (SNC), any candidate has to first be elected into a 41-member secretariat, and next onto an executive committee of 11 members, who then vote for a leader.
Sabra failed in the first stage, missing by one vote the chance to join the secretariat, so, you might wonder, how has he just become leader of the SNC?
Many blamed Sabra's initial defeat on the closed-list system, which has benefited the well-organised Islamists (who won a third of the seats) and disadvantaged the loose, secular coalitions.
Sabra's loss not only disappointed people inside the council, but also many ordinary Syrians opposed to President Bashar al-Assad.
Sabra, for many, is not just a member of an opposition bloc. He is also a struggler. A long-time opponent of Assad rule, he was jailed for eight years and detained twice after the uprising erupted in March last year.
Since Sabra is a Christian, the SNC tried to work around the bylaws and offer him a seat in the secretariat as part of a minority groups' quota.
But Sabra, a secular leftist from the Damascus suburbs, refused to accept this opportunity.
"He is not a politician, or an academic. He is a revolutionary. He doesn't speak in abstract. His tone conveys our anger and pain. He is our voice," Faraj Hammoud Faraj, an SNC member and part of the Higher Council for the Syrian Revolution (HCSR), an activist network based in Syria.
The HCSR, which works in both relief efforts and supporting Syria's rebels, has been accused of being an intolerant hardline Islamist group, Faraj says.
But the night before elections, the HCSR made a move that may change this perception.
The group, which won three seats in the SNC secretariat, decided to invite Sabra to join their group, take the seat of one of its members and represent it.
"When Wasel al-Shamali offered him his seat, George Sabra cried," Faraj says. "We all cried."
The rest is history.
A SNC founder resigns
A founder of the Syrian National Council (SNC) resigned on Friday, saying the opposition group had failed to reform and had even removed women from senior positions at a meeting in Qatar where restructuring was supposed to take place.
Businessman Adib al-Shishakly, grandson of a late Syrian president, said the the main overseas opposition in the 20-month-old Syrian uprising "has failed to become an institution" and a newly elected 41-member general assembly was dominated by Islamists.
"The Council has not managed to attract prominent opposition figures who have for obvious reasons remained outside it," Shishakly said in a statement critical of what had been accomplished at Doha.
"A younger generation effective in the revolution was also excluded. Few women were in the general assembly, there are none now," the statement added.
An SNC source said two other members also had resigned over the absence of women from senior positions.
Reuters/ Al Jazeera