Fleeing Syrian refugees fear Assad's air power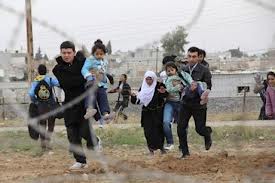 Gun and mortar fire could be heard on Saturday from the Syrian border town of Ras al-Ain two days after it fell to rebels fighting to oust President Bashar al-Assad, and refugees who had fled to Turkey said they feared retribution from the air.
Laden with what possessions they could carry, Syrians continued to cross the border into Turkey, some saying they were scared the fighting was not over and Assad's fighter planes and helicopters would be back.
Some 9,000 fled the fighting on Thursday and Friday, the United Nations said, swelling to over 120,000 the registered refugees Turkey is sheltering in camps, testing the country's resources and patience.
"We will stay here until the fighting has completely stopped and all has calmed down," said 40-year-old Gasan Alun, who fled to the Turkish town of Ceylanpinar several days ago with 23 members of his family.
"I hope to God they don't bring the planes," he said. "It's the planes we're scared of."
The rebel flag flew above the town, a Reuters reporter on the Turkish side of the border said, and early on Saturday rebels could be seen driving freely in open pick-up trucks, guns slung across their shoulders.
But as dusk fell, several mortars landed near Ras al-Ain and gunfire grew more intense, according to a Reuters witness in Ceylanpinar, just across the border.
Rebels of the Free Syrian Army have claimed towns before in the 19-month civil war, only to be pounded again by Assad's air force or shelled by his army.
"The fighting has stopped but only for now," said Ahmad, a Syrian teenager who had just crossed into the Turkish border town from Ras al-Ain through a hole in the barbed wire fence marking the border.
"They (Assad's soldiers) will be back," he said. "Assad's helicopters have been circling, identifying where the Free Syrian Army soldiers are based."
Ahmad's friend, Mahdi, said: "We will try and stay in Ceylanpinar but if we can't we will have to go back. But we are scared of the helicopters coming."
SPILLOVER OF VIOLENCE
With winter setting in, the refugee influx is causing alarm in Turkey, and could spur calls for a buffer zone to be set up inside Syria to house refugees and aid the rebels in a war that opposition activists say has killed 38,000 people.
Increasingly critical of world powers for failing to act, Turkey says it is considering lodging a request with its NATO allies to deploy Patriot surface-to-air missiles to its border to guard against a spillover of violence.
Such a move could be a step towards enforcing a no-fly zone within Syria.
The refugee crisis and the threat of spillover risks stretching Turkey's military and resources in a region where it is also fighting an emboldened Kurdish insurgency.
On Saturday, 17 Turkish soldiers were killed when their Sikorsky helicopter crashed due to bad weather conditions on Herekol mountain in the Pervari area of southeastern Siirt province, Siirt Governor Ahmet Aydin said.
The victims were members of the country's gendarmerie special forces and there were no survivors on board, he said.
There has been an upsurge in attacks since the summer in southeast Turkey by the outlawed separatist group the Kurdish Workers Party (PKK), which launched an insurgency in 1984 with the aim of carving out a separate state.
On Friday, authorities said Turkish jets and helicopters had killed 42 militants along the border with Iraq and Iran.
Ankara has accused Syria, where 1 million Kurds also live, of arming the PKK.
"I would like to remind once again, the ones who think that they can subdue our state, our nation through terror, and see instability, and political developments in our region and our neighbors as an opportunity, are greatly mistaken and will regret," Turkish President Abdullah Gul said in a statement.
Kurds in Syria have largely tried to steer clear of the violence triggered by the uprising against Assad.
But over the last three months, the mainly Sunni Muslim Arabs of the Free Syrian Army have captured outposts on the Turkish border, moving towards the northeastern heartland of the Syrian Kurds.
Reuters