11,000 Syrians Flee in Past 24 Hours, UN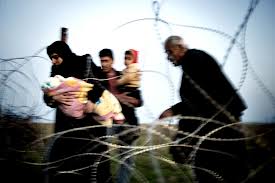 At least 11,000 Syrian refugees have fled their country in single day, pouring into Turkey, Jordan and Lebanon with children and dozens of wounded, U.N. officials said Friday. Some desperately climbed over razor-wire border fences to seek safety.
Most of the surge in refugees was due to the 9,000 fleeing into Turkey, including more than 70 who were wounded, U.N. officials said. Jordan and Lebanon each absorbed another 1,000 refugees.
The civil war in Syria has killed more than 36,000 people since an uprising against President Bashar Assad's regime began in March 2011.
Panos Moumtzis, the U.N. refugee agency's regional coordinator for the region, described the flood of people as "the highest that we have had in quite some time."
He said the escalation — much more than the average 2,000 to 3,000 Syrians fleeing daily — brings the number of Syrian refugees registered with the agency to more than 408,000.
The new arrivals bring the number of refugees in Turkey to around 120,000.
Turkish media showed video of refugees climbing through the barbed-wire fence separating the two countries. U.N. refugee agency spokesman Adrian Edwards told The Associated Press that the refugees had crossed into the Turkish border province of Sanliurfa.
"These are people fleeing fighting between the (rebel) Free Syrian Army and the government of Syria, including more than 70 wounded and two who are reported to have died," Edwards said.
A Turkish official said the Syrians were mostly escaping fighting in the town of Harem, in Syria's northern Idlib province as well as violence in the Syria town of Ras al-Ayn in the northeastern province of al-Hasaka, where the rebels had wrested control from Assad's forces. The official spoke on condition of anonymity in line with government rules that bar civil servants from speaking to journalists without authorization.
Radhouane Nouicer, the U.N.'s regional humanitarian coordinator for Syria, said the Middle East nation is seeing unrelenting increases in violence, suffering, displacement and losses "and civilian Syrians continue to pay the price."
He said U.N. officials also worry that in recent weeks Kurds and Palestinians have become increasingly being drawn into the fighting.
Earlier, state-run Anadolu Agency said a group of Syrian soldiers, including two generals and 11 colonels, had fled to Turkey with their families and were taken to a camp that shelters military defectors, including dozens of other generals.
Anadolu Agency video footage showed Syrians jumping over and climbing through the barbed-wire fence that makes up part of the 911-kilometer (566-mile) border, to cross into the Turkish border town of Ceylanpinar.
The United Nations is warning that the number of people inside Syria needing humanitarian aid could rise sharply, from 2.5 million now to 4 million by early next year, if the civil war grinds on at its deadly pace.
John Ging, operations director for the U.N. humanitarian office, said the U.N. is also projecting that a failure to end the fighting will lead to an increase in the number of Syrians fleeing to neighboring countries, from almost 400,000 at present to around 700,000 in early 2013.
Ging spoke in an AP interview ahead of Friday's Syria Humanitarian Forum in Geneva where between 350 and 400 representatives of governments, international organizations and aid groups heard reports on the sharply deteriorating humanitarian situation in Syria.
"People need to be aware of just how desperate the situation is inside Syria for the people there, how unbearable it is, and how they are suffering and falling into ever deeper despair and humanitarian need," Ging said. "It's just getting a lot worse very rapidly for the ordinary people."
Ceylanpinar's mayor, Ismail Aslan, told the AP by telephone that the Syrian rebels on Friday took control of a security building, a day after the rebels also took over the border crossing between Ceylanpinar and Ras al-Ayn. The regime forces shelled rebel positions on Friday morning but the fighting had subsided by early afternoon, he said.
Schools in Ceylanpinar were closed for a second day on Friday and residents were told not to leave homes.
Rumors that Syrian regime forces would launch air raids on Ras al-Ayn had precipitated the refugee influx, said another official in Ceylanpinar, who also spoke on condition of anonymity.
The refugees were being taken to nearby refugee camps or were staying with Turkish relatives, he said.
ABC