Syrian rebels fed up with 'cowards in exile'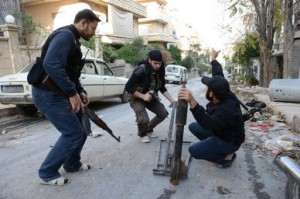 Syrian rebels at the front are turning against their commanders, accusing them of being cowards by fleeing abroad and failing to unite a cause that has been increasingly hijacked by Islamists.
Numbers are difficult to obtain, but analysts estimate that since the start of the uprising against President Bashar al-Assad in March 2011, tens of thousands of largely low-ranking members of the 300,000-strong armed forces have defected or deserted.
The Free Syrian Army (FSA), which acts as an umbrella for a multitude of different factions, was set up in August 2011 by defectors based in Turkey and led by former air force colonel Riyadh al-Asaad.
But for fighters and mid-level commanders risking their lives every day on the front line, their nominal superiors are little more than cowards who abandoned their country and whose experience would be better served in battle.
"They're b*******," said Abu Mohammed, a former major in the Syrian army, when asked why the FSA leaders live comfortably in Turkey.
"No one in Syria respects these commanders because when officers defect they should be fighting, not sitting over there. They drink tea and smoke nargile and just talk, just talk," he chuckled.
Abu Mohammed said he fled to Belgium five years ago because he was fed up by the preferential treatment given to members of the Alawite sect who dominate the Assad regime, and returned to Syria after the uprising began.
Of the 350-400 men he claimed to command in the fight for Syria's city of Aleppo, only three are defected officers. He said there is no overall FSA leader in Syria and that "this is the problem".
Fighters have made significant gains, but — poorly equipped and made up mostly of civilian recruits — they increasingly realise that victory is far off.
"Without organisation and a system, it will be impossible to defeat Bashar al-Assad," said Abu Mohammed, sitting in an olive grove in northern Syria where he trains slightly rag-tag recruits wearing sandals and tracksuits.
"And the reason we don't have any organisation is because of these officers sitting in Turkey. Civilians are very good people but it is the officers who should be fighting."
Someone brings out a couple of home-made bombs — water pipes packed solid with sand and diesel — and a dubious-looking home-made rocket.
"Simple bombs can't break the regime but I believe in God, and God is with us," said Abu Mohammed.
As the latest Syrian opposition conference met in Qatar, rebels repeated demands for weapons and ammunition, humanitarian aid and a no-fly zone like the one that helped Libya's rebels defeat Moamer Kadhafi.
Washington wants the opposition to form a transitional government representing not just those fighting at the front, but all communities, in which minorities like the Alawites, Shiite Muslims, Kurds and Christians are not forgotten.
But for many FSA fighters on the ground in northern Syria, it's a Sunni Arab fight in which Shiites are the enemy, Kurds untrustworthy at best and Christians largely ignored.
So they dismiss a call from US Secretary of State Hillary Clinton for a new, more inclusive and united opposition.
"Can Hillary Clinton make all American people unite? If she can do that, we'll tell her we can do that," said Sheikh Omar, a former religious studies and Arabic teacher, who commands 150 people in an FSA unit in the northern town of Al-Bab.
He said that of 1,500 FSA fighters in the town, only 30 have any military experience. He too is scathing, not just of the FSA commanders in Turkey, but of other groups, saying the FSA alone can bring down the regime.
"When I think about the FSA still not being united, then the officers in Turkey are responsible for that because they don't work," he said, dressed in grey combat trousers and a matching military-style shirt.
"There are two types of defectors — those who stay in Syria and fight and then the other type who stay in fancy hotels in Turkey.
"They're dreaming of when the regime falls… These are people who just think of personal benefit, they're not brave people, they are weak people."
But he was tight-lipped when asked about Clinton's remarks that the uprising has been "hijacked" by Islamist foreign fighters, refusing to discuss the matter.
Sheikh Mahmoud el-Mujadini, who claimed to preside over three brigades, dismissed any support for Al-Qaeda-style ideology in Syria and said his brigades in Aleppo had joined ranks precisely to tighten up organisation.
"Why are these people living in Turkey? They defected, so why don't they come here to protect their homes?… The reason they ran away is that they're scared the regime will catch or kill them and their families."
France 24
Photo: Syrian rebel fighters set a home-made rocket in Aleppo's northern Izaa quarter on November 3. Syrian rebels at the front are turning against their commanders, accusing them of being cowards by fleeing abroad and failing to unite a cause that has been increasingly hijacked by Islamists.