Abductor of the Lebanese pilgrims killed in Syria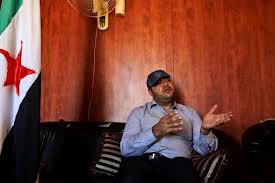 The abductor of the Lebanese pilgrims in Syria, Ammar al-Dadikhi, aka Abou Ibrahim has been killed by the Kurds during an attempt to storm the town of Qastal Jindo in Aleppo's countryside , the Beirut-based, al-Mayadeen TV reported on Monday.
Abou Ibrahim was the spokesman of the so-called Northern Storm Brigade, which claimed responsibility for kidnapping the Lebanese Shiite pilgrims in Azaz.
Anti-regime activists in Azaz and the Syrian Observatory for Human Rights have denounced Abou Ibrahim as a criminal.
Hassan Berri, a parliament member announced the death of Abou Ibrahim