Berri ready for a new national unity cabinet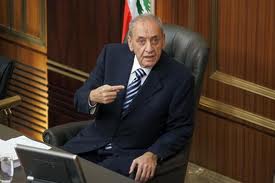 Lebanese Speaker Nabih Berri told An-Nahar newspaper in remarks published on Sunday that he is ready to work on forming a new national unity cabinet to head off the political crisis caused by the assassination of the country's top intelligence official last week.
"I am ready to work on forming a new national unity government," Berri said adding: "The path of dialogue should be taken despite differences in points of view between political groups."
Berri also criticized the March 14 opposition for attacking the current cabinet of Prime Minister Najib Mikati and calling on him to step down.
But Mikati told MTV on Saturday that his resignation is "out of the question" after raising the possibility following the assassination of the top intelligence official Wissam al-Hassan.
Many in Lebanon blamed Syria and its Lebanese ally Hezbollah for the Oct. 19 car bomb attack that killed Hassan. Lebanon's opposition has demanded the resignation of Mikati's Hezbollah-dominated government, saying it is too cozy with the Syrian regime.
Mikati initially said he is not clinging to his job.
Berri, a close ally of the Iranian and Syrian-backed Hezbollah tries on occasion to pretend that he is independent from the militant group according to analysts but few in Lebanon take such moves seriously because he is reportedly powerless without Hezbollah backing.