FBI team in Lebanon to help in assassination probe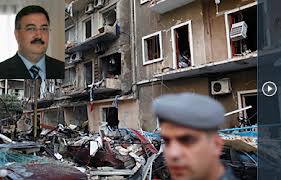 The Federal Bureau of Investigation ( FBI) team arrived Thursday at the request of the Lebanese government to help in the investigation of last week's car bomb that killed Lebanese intelligence chief Brig. Gen. Wissam al-Hassan who was assassinated last Friday in the Ashrafieh district of Beirut.
The team met with Lebanon's state prosecutor Hatem Madi at his office at the Justice Ministry Thursday before setting out on collecting evidence at the site of the bombing
"The Federal Bureau of Investigation team is at the scene of the crime and has begun collecting evidence," Interior Minister Marwan Charbel told AFP.
Security forces cordoned off the explosion site in Ashrafieh and prevented journalists and photographers from approaching as the FBI team searched for samples, fingerprints and evidence in the area.
State prosecutor Madi said the FBI team will provide technical assistance to Lebanese authorities in the probe into Hassan's killing.
"This team will not participate in any investigation and is not authorized to be informed of the investigations held or that are being held with witnesses," Madi told reporters.
He said the nature of the FBI team's work does not include interrogating people.
"The work of this team will be under my personal supervision from A to Z," Madi said. He added that there was no time limit for the team's work.
"The team will stay in Lebanon until they have fully accomplished their mission," Madi stressed,
Syria has emerged as the prime suspect in Hassan's assassination.
"Damascus detested him above all for catching red-handed with explosives Lebanon's former information minister Michel Samaha, the most pro-Syrian of Syria's allies," Ghassan al-Azzi, a politics professor at Beirut's Lebanese University said last weekend.
Hassan arrested Samaha at his home in August and police found explosives which investigators alleged were to be used in a series of attacks in northern Lebanon to spark unrest in the country.
But Lebanese Forces leader Samir Geagea, a key member of March 14 opposition told Saudi daily Al-Watan in remarks published on Thursday that Hassan was assassinated by the Shiite group Hezbollah under orders from its Syrian and Iranian backers.
Hassan, 47, opposed Syrian President Bashar Assad.