Berlusconi's four-year sentence quickly cut to one year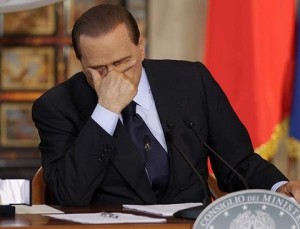 Silvio Berlusconi, the former Italian prime minister, was sentenced to four years in prison for tax evasion, only for his sentence to be reduced swiftly to one year.
The court in Milan said the reduction was a result of a 2006 amnesty law, passed by a rival Left-wing government, aimed at reducing prison overcrowding.
Mr Berlusconi's lawyers appealed minutes after the pronouncement of the first convinction, which included a three-year ban on holding public office.
Given their client's record of running down the legal clock or winning appeals, the colourful 76-year-old politician and tycoon is unlikely to spend time behind bars in the near future, if at all.The statute of limitations in the case is set to expire sometime next year.
Defence lawyers Piero Longo and Niccolo Ghedini denounced the guilty verdict as "incredible".
"It is to be hoped that in the appeals court there will be a different atmosphere," they said, describing the decision by the Milan court as "totally divorced from all judicial logic".
Telegraph