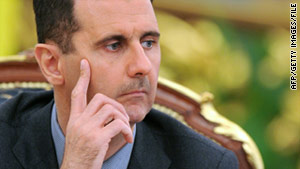 United Nations war crimes investigators said on Thursday they had asked to meet Syrian President Bashar al-Assad to seek access for their team, which has been shut out of the country since being set up a year ago.
The team, led by Brazilian expert Paulo Pinheiro, has been gathering evidence and testimony on atrocities committed by Syrian government forces and armed rebels in the 19-month-old conflict.
"We decided to send a letter to President al-Assad calling for a meeting … it would be very important that he could receive us," Pinheiro told reporters in Geneva.
"We intend to go there without conditions to meet President Assad to discuss access of our commission to Syria," added Pinheiro, who went to Damascus in June in his personal capacity for talks with senior Syrian officials.
Carla del Ponte, a former U.N. war crimes prosecutor who has joined the inquiry, was asked about similarities with past investigations including those into war crimes in former Yugoslavia. "The similarity is of course we are handling the same crimes, crimes against humanity and war crimes for sure."
She added: "My main task will be to continue the inquiry in the direction of determining the senior political and military authorities responsible for these crimes."
The investigators have drawn up a secret list of Syrian individuals and units suspected of committing crimes including murder and torture, which they say could pave the way for future criminal prosecution.