Clinton backs idea of temporary cease-fire in Syria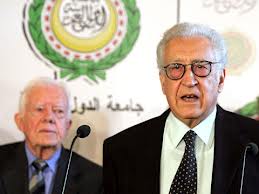 The Obama administration is cautiously welcoming the possibility of a temporary cease-fire in Syria, saying it hopes calm might lead to political transition.
Secretary of State Hillary Rodham Clinton says she supports U.N. peace envoy Lakhdar Brahimi's initiative and wants a transition process ending the Assad family's four-decade dictatorship.
Brahimi says Syria's government and some rebel leaders have agreed to the four-day truce during the Muslim Eid al-Adha holiday, which starts Friday. But an al-Qaida-inspired Islamist group rejected the call.
Clinton on Wednesday also condemned this weekend's attack in Lebanon that killed an anti-Syrian intelligence chief. She backed Lebanese efforts to reshape the government and find those responsible.
But Clinton said the U.S. doesn't want a political vacuum in Lebanon that can be taken advantage of by Syria or others.
Washington Post/AP
Photo: U.N. peace envoy Lakhdar Brahimi (R)  is shown with  former US president Jimmy Carter during the announcement in Cairo the acceptance of the 4 day cease-fire by the Syrians October 24, 2012