Lebanese security official 'knew he was a Syrian target'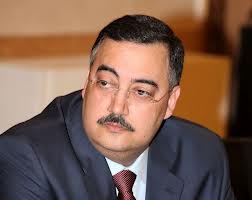 Wissam al-Hassan (pictured), the Lebanese intelligence chief killed in Friday's terror attack in Beirut, was a known opponent to Syria's Bashar al-Assad and had alerted allied opposition members to a number of Syrian threats, it emerged Saturday.
Wissam al-Hassan, a top Lebanese security official killed Friday in a Beirut car bombing, suspected the regime in neighbouring Syria of murdering his mentor, former prime minister Rafiq Hariri.
The grey-moustached general, 47, a Sunni Muslim, had sent his wife and children to Paris because he "knew he was a target," said a Lebanese opposition leader hostile to the regime of Syrian President Bashar al-Assad.
As intelligence chief of Lebanon's police, the Internal Security Forces (ISF), Hassan dismantled Islamist networks in his country and shut down Israeli-linked spy operations.
But his master stroke was the August 9 arrest, in which ISF played a central role, of former Lebanese information minister Michel Samaha, suspected of planning attacks in Lebanon's north at the behest of Syrian intelligence official Ali Mamlouk.
Hassan had already pointed the finger at Damascus, not only for the Hariri assassination in 2005 but also for a series of killings over the following three years of Lebanese figures opposed to Syria.
His ISF were deeply involved in seeking the arrest of those responsible.
"They targeted General Hassan because he arrested Michel Samaha and he was a security official who feared nothing," said opposition politician Samir Geagea.
Syrian Information Minister Omran al-Zohbi condemned what he called the "terrorist, cowardly" attack.
Born in northern Lebanon's Koura region, Hassan entered the police academy in 1983.
Later responsible for protocol, he was often at Hariri's side.
The prime minister's murder, as he drove along the waterfront, sparked an international outcry which forced the withdrawal of Syrian troops who occupied Lebanon during its civil war which ended in 1990.
No one has ever been tried for Hariri's murder but a UN-backed tribunal indicted four members of the Shiite Muslim group Hezbollah, which now dominates the Lebanese government and is allied to Damascus.
After Hariri's death, Hassan took on the position he held until his own murder on Friday.
ISF officers described him as "the man for difficult jobs" but also one in the shadows.
When he died, he was travelling in an unmarked car without a convoy, something his killers must have known because they attacked him in an alley with a car bomb that waited for him to pass, a government official said.
But Hassan "moved with exceptional security measures," the source added.
Officials said seven other people also died in the blast, although the ISF and Red Cross gave a lower overall toll of three dead on Saturday.
"We have lost a pillar of security but we are not going to give up because we must protect the security of the country," said the ISF chief, General Ashraf Rifi.
According to Geagea, himself a target for assassination last April, "General Hassan alerted us every time to the threats against" members of the opposition hostile to Damascus.
The "14 March" opposition coalition has been targeted about a dozen times since 2005, Geagea said.
Asked whether Syria was behind the attack on Hassan, he replied: "Who else could it be?"
France 24