Geagea urges cabinet resignation, expulsion of Syrian envoy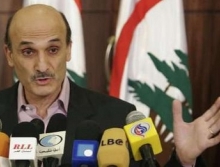 Lebanese Forces leader Samir Geagea demanded on Saturday the suspension of all the security, military and judicial agreements with Syria, the expulsion of Syrian Ambassador to Lebanon Ali Abdul Karim Ali and the immediate resignation of the cabinet.
"They assassinated ISF Intelligence Bureau head Brigadier General Wissam al-Hassan to prevent the the Special Tribunal for Lebanon from revealing the truth," Geagea said in a news conference at his Maarab residence.
He said that Hassan was assassinated because "he was seeking to build a strong state… Because he exposed the plot of (ex-Information Minister) Michel Samaha," Geagea pointed out.
"We call on those who still have dignity in this government, in particular, the ministers of the Progressive Socialist Party to resign and to assume their responsibilities," the LF leader said.
He also urged the international community and Arab states to lift the political cover off the cabinet "as its presence isn't justified anymore."
Geagea called on the UNIFIL to deploy immediately along the Lebanese-Syrian border and the implementation of U.N. Security Council resolution 1701.
Geagea called on his supporters and the Lebanese people to attend en mass Hassan 's funeral on Sunday, holding only Lebanese flags.