Qatar tells Mikati is committed to Lebanon economy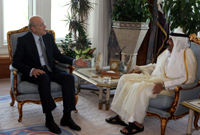 Qatar PM said yesterday that it was ready to respond to any suggestions to help improve the Lebanese economic and political situation.
During a joint press conference with visiting PM Najib Mikati, Prime Minister and Foreign Minister Sheikh Hamad bin Jassim bin Jabor al-Thani said that Qatar had a moral commitment to help Lebanon both before and after the 2008 Doha agreement.
Describing relations between Qatar and Lebanon as "historic and long-standing", Sheikh Hamad bin Jassim said that talks between the Emir Sheikh Hamad bin Khalifa al-Thani and Mikati earlier yesterday had focused on bilateral relations. He described the talks as"very frank". The meeting showed full support for Lebanon, he said.
Mikati was in Qatar for a one-day official visit, accompanied by a Lebanese delegation, including Foreign Minister Adnan Mansour, Social Affairs Minister Wael Abu Faour, Environment Minister Nazem al-Khoury, Economy Minister Nicolas Nahhas and State Minister Ahmad Karami.
Mikati lauded Qatar's support for his country, revealing that Sheikh Hamad bin Jassim had informed him that the Emir had ratified six agreements between Qatar and Lebanon, which had been put on hold. He said a Qatari-Lebanese Supreme Committee would meet in Doha early next year.
Among issues tackled during the meeting between the Emir and Lebanese Premier were investments in Lebanon, Sheikh Hamad bin Jassim said, adding that "Qatar is ready to invest in any projects that are economically feasible in Lebanon".
The meeting, he said, had discussed issues related to Qatari nationals in Lebanon and Qatari citizens' visit to that country. Those issues were discussed only because of the current situation and because of certain conditions there, he said, while highlighting the progress that had been made in Lebanon in security.
Qatari PM stressed that these issues were still under discussion between the two countries, hoping it would be completed as soon as possible.
"We are fully aware of the circumstances surrounding the actions that had taken place and are sure that the Lebanese government and people reject such acts, and at the same time we understand the current situation and the circumstances our brothers in Lebanon are undergoing," he said, while stressing that Lebanon needed support in these circumstances.
"Our relations with Lebanon continue uninterrupted and we are open and ready for any suggestions to help in solving Lebanon's economic or political problems."
The Qatari PM stressed that Qatar had a moral commitment towards Lebanon, before and after the Doha Agreement, and that Qatar had always been keen on Lebanon's security and stability.
About the Qatari initiative, proposed by HH the Emir, on sending Arab troops to stop the bloodshed in Syria, Sheikh Hamad bin Jassim said the idea was being seriously negotiated, but it needed a resolution from the UN Security Council, explaining that the initiative was welcomed by many Arab countries, especially since the troops' mission would not be supporting one party to win the battle, but rather stopping the bloodshed in Syria. He added that HH the Emir had felt that it would resemble the Arab Deterrent Forces that were once in Lebanon.
Regarding the efforts of the UN Arab League joint envoy to Syria Lakhdar Brahimi, Sheikh Hamad bin Jassim said: "We have full confidence in his abilities, but do not trust that the other party honestly wants to resolve the issue peacefully." He hoped that the results of Brahimi's current tour, as well as his talks with the Muslim Brotherhood in Syria might carry some new indicators. "Talks and discussions are good, but practical acts are something different," he pointed out.
The Prime Minister said that the continuity of the bloodshed did not serve Syria domestically, regionally or internationally.
He said Qatar was supplying neither radical nor non-radical groups in Syria with weapons.
"We are only extending humanitarian assistance to all Syrians in Lebanon, Turkey, Jordan or in Syria by sending medicines and humanitarian aid. And as the problem persists for a longer period we should expect the emergence of more radical groups. Hence we see a need to resolve this problem as soon as possible, and urge Bashar al-Assad and all others to find a way out of the crisis through unity among all Syrians".
He explained that radical groups flourished in areas where conflicts persisted, recalling that it was the Syrian people, not the radical groups, who started the uprising.
He emphasised that Qatar was not supporting any of the radical groups, and was not interfering in Syria's internal affairs.
"Qatar's role is transparent," he noted.
"We know that all such stories emanate from Damascus and realise the reason. What is more important to us is how to stop the bloodshed.''
Asked about the mission which Brahimi wanted to send to Syria and whether it would conform to the proposals of the Qatari Emir for sending Arab troops to stop the bloodshed in Syria, he said: "Any mission that is not well-armed to protect itself will not fulfill its aim. For this, it must have enough members and equipment to carry out its duty."
Gulf Times