Tension escalates as Turkey bans all Syrian aircraft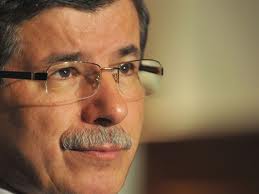 Turkey's foreign minister announced on Sunday a ban on all Syrian aircraft entering his country's airspace, days after the authorities discovered what they said were Russian military munitions on board a passenger plane bound for Damascus.
The announcement followed Syria's ban on Turkish aircraft a day earlier and became the latest volley in an increasingly aggressive dispute between the two neighbors over Syria's devastating civil war.
In televised remarks, the foreign minister, Ahmet Davutoglu, accused Syria of using civilian flights as a cover for transporting military equipment. Turkey had already banned military aircraft from entering its territory.
Last week, Turkish fighter jets forced a Syrian passenger plane to land in the Turkish capital, Ankara, on suspicion that it was carrying weapons. Turkish officials later said the plane, which was en route from Moscow, had been carrying Russian munitions, an assertion that both Syria and Russia have vehemently denied.
Turkey and Syria share a 500-mile border that is quickly becoming a fault line in what many fear could be an expansion of the civil war into a regional conflict.
Turkey has been a strong supporter of efforts by insurgents to topple Syria's president, Bashar al-Assad. It has harbored anti-Assad fighters on its territory and has hinted that it may take military action against Syrian forces. On Sunday, Mr. Davutoglu said Turkey would not be open for talks with Mr. Assad's government unless violence against civilians ceased.
Syria has responded to perceived Turkish incursions aggressively. In June, Syria shot down a Turkish fighter plane that it said had entered its airspace, killing two crew members. And last week, a mortar shell fired from Syria fell across the border in a Turkish village, killing five civilians.
On Sunday, government forces pounded rebel strongholds with artillery, and rebel fighters continued a series of strikes in the heart of Damascus.
A suicide bomber rammed a car bomb into a coffee shop in the upper-class neighborhood of Mezzeh in Damascus, Syria's state news agency reported. The huge explosion caused no injuries or deaths, but was likely to further undermine the sense of security in the capital, where such attacks have become increasingly common.
Video taken in the aftermath of the blast showed twisted chairs and tables scattered in front of the mangled facade of the coffee shop. Hours later, an explosion ripped through the car of a Syrian journalist, also in Mezzeh, wounding him severely, The Associated Press reported.
The London-based Syrian Observatory for Human Rights said in a statement that the journalist, Ayman Youssef Wannous, might have been attacked for his pro-Assad sympathies.
Witnesses said a third bombing in the city injured a pro-Assad lawyer.
Heavily armed security forces flooded the city, erecting checkpoints and conducting searches of anyone carrying bags.
As many as 200 people have been killed in violence over the weekend, the Syrian Observatory said in a statement. In Aleppo on Sunday, where at least 22 died in fighting on Saturday, Syrian forces continued to bombard neighborhoods, killing fighters as well as civilians, the statement said.
The Syrian Observatory also reported that Syrian authorities had for the first time conducted a prisoner swap with rebel fighters, releasing two detainees for the son of a prominent official. The details of the swap could not be verified, nor could reports of fighting because of restrictions on reporting in Syria.
NY Times