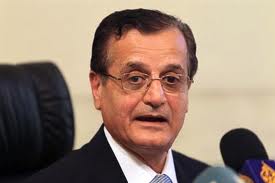 Foreign Minister Adnan Mansour announced on Sunday that he will call for an urgent meeting of Arab foreign ministers to denounce the anti-Islam film that has sparked deadly protests across the Muslim world.
Mansour according to a statement by the Foreign Ministry contacted Arab League chief Nabil al-Arabi and urged him to make the necessary contacts to hold the emergency meeting at the League's headquarters in Cairo to discuss the film.
The movie mocks the Prophet Mohammed and portrays Muslims as violent.
Mansour suggested the emergency meeting to be held on Thursday or Friday.
Mansour's announcement came a few minutes after Hezbollah chief Sayyed Hassan Nasrallah called for anti-Islam film protests throughout Lebanon.
Mansour's announcement also came a few hours after Pope Benedict left Lebanon for the Vatican, ending a three-day tour in which he urged Arab leaders to serve justice and peace.
Mansour criticized
MP Amin Wehbe responded to Mansour by saying:
"This is not a minister of Lebanon… he always acts on behalf of the Iranian and and Syrian regimes and his positions have never aligned with the positions of the President or the PM. As far as the issue of the film is concerned we all have condemned it, but the Foreign Minister must coordinate his moves with the president."
This error message is only visible to WordPress admins
Error: No connected account.
Please go to the Instagram Feed settings page to connect an account.