Syrian army jets, helicopters batter Aleppo: report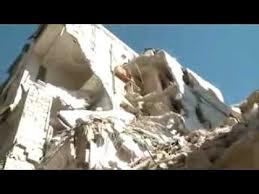 Beirut, Lebanon- Syrian regime forces on Friday used fighter jets and helicopter gunships to pound the city and province of Aleppo, where fierce clashes raged around a military airport, monitors said.
Fighter jets bombarded the rebel-held towns of Al-Bab and Marea near Aleppo city, said the Syrian Observatory for Human Rights, adding that army forces and rebels battled around Minnigh military airport.
Rebels have staged multiple attacks on military airports in past weeks, focusing on the eastern province of Deir Ezzor, Idlib in the northwest and Aleppo, the key battleground province of northern Syria.
As the army has increasingly employed fighter jets and helicopters in its attacks, the rebel Free Syrian Army has made military airports a strategic target, an FSA spokesman told AFP on Thursday.
Despite shelling by regime forces, as seen in videos posted online, residents of Marea, Aleppo city and towns across the northern province came out for anti-regime demonstrations after the weekly Muslim prayers, activists said.
The demonstrations were held under the slogan "Idlib: Cemetery of the planes and symbol of victory."
Demonstrations were also reported in the provinces of Damascus, Idlib, Daraa in the south and Hama in central Syria where an unknown number of protesters were killed as regime forces opened fire in Hama city, the Observatory said.
In the central Aleppo district of Midan, regime forces carried air strikes on two police stations which the rebels had taken over, according to Observatory director Rami Abdel Rahman.
"Whenever the rebels take a police station, the regime destroys them," Abdel Rahman told AFP by phone. "Now no one controls these posts," he said, adding that "regime forces have deployed throughout Midan to try and push out the rebels."
In the Hanano district in the northeast of Aleppo city, air strikes destroyed another police station in the hands of the rebels, Abdel Rahman said.
Just south of Damascus, the army fired live ammunition at an anti-regime demonstration in the Palestinian refugee camp of Yarmuk, according to the Local Coordination Committees — a network of activists on the ground.
Near the capital, at least 15 soldiers were killed or wounded in an attack on their vehicle in the restive town of Douma, where clashes broke out near the municipal building, the Observatory said.
Also in Douma, northeast of Damascus, two civilians were killed as gunfire and army shelling broke out before dawn, while two others, including a woman, were killed in nearby Harasta.
In Damascus itself, three large explosions were heard in the late morning, according to an AFP reporter. The Observatory said that security forces swept its southern districts of Midan and Nahr Aisha.
At least 16 people were killed on Friday, according to the Observatory, with the highest toll in Daraa province where eight civilians, including three children, were killed in air strikes on the town of Bosra al-Sham.
Brecorder