Brahimi in Damascus as Assad forces pound rebels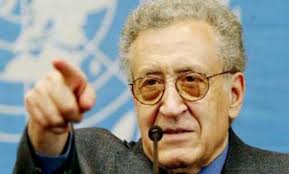 International peace envoy Lakhdar Brahimi arrived in Syria's capital on Thursday as state forces pounded its eastern outskirts to flush out rebels trying to retain a foothold in Damascus.
Brahimi's mission is a challenging one as neither side in the rebellion against President Bashar al-Assad seems ready to put down arms. Nor does Brahimi enjoy the necessary support from divided world and Middle East powers.
Opposition activists reported a fighter jet flying overhead and helicopter gunships firing down on suburbs that have housed insurgents struggling to topple Assad after the ouster of four other Arab autocrats in popular revolts over the past 18 months.
"There is a fresh campaign on the eastern parts of Damascus," said an activist, speaking on Skype from the capital. "Helicopters are roaming the skies and right now they are firing on Zamalka district."
The 17-month-old conflict is escalating, with more than 27,000 dead, and has engulfed many areas around the seat of government, once believed impregnable to Assad's opponents.
His forces appear to be trying to keep opposition fighters out of the heart of Damascus by bombarding rebel-infiltrated outskirts with tanks, artillery, and helicopters.
Brahimi, a veteran Algerian diplomat who replaced former U.N. Secretary General Kofi Annan as head of a struggling international peace mission on Syria, was expected to meet opposition figures and government officials, including Assad.
"There is a crisis, no one denies it," he said on arrival in the Syrian capital. "We hope to contribute to (ending the violence) during the days and weeks ahead."
But his mission suffers from the fact that Western powers, as well as Gulf Arab states, are backing the opposition, while Russia, Iran and China are supporting Assad's government. The result has been deadlock in the U.N. Security Council as the death toll climbs and the refugee count soars to over 200,000.
BLACKENED, BOMBARDED DISTRICT
In Damascus, residents said the Free Syrian Army, a loose assortment of rebel forces, appeared to have pulled out of the southern neighborhood of Tadamon. Troops were deployed across the district, according to a witness visiting the area.
Tadamon, which has seen heavy shelling and clashes in recent weeks, was partially destroyed. House after house stood in ruins, crumbling from bombardment or blackened by fire.
"Any house that had any link to the Free Syrian Army has been destroyed," one resident said.
Residents returned to Tadamon to survey the damage, some of them hoping to retrieve family possessions. "I have come to take some of my goods," said a man on Daoul Street, looking at his partially destroyed house.
Distant explosions shook the district but there was no fighting in Tadamon itself on Thursday. Residents say they had been warned by the army that if they let rebels back in, soldiers would return to destroy the remaining houses.
"We haven't seen the Free Army since yesterday," said another resident.
In other parts of the capital, the violence is also taking a sectarian turn, reflecting the dangers of a conflict that is descending into outright civil war.
Some activists said rebels battled a pro-Assad militia near a Shi'ite Muslim shrine on the fringes of Damascus. The violence watchdog Syrian Observatory for Human Rights said at least three were killed and 16 wounded, some in critical condition.
"PEOPLE ARE FIGHTING THEMSELVES"
Thursday's clashes about 1 km from the Sayyeda Zainab shrine, a pilgrimage spot for Shi'ites from across the region, seemed to pit men from a local Shi'ite vigilante group against rebels drawn mostly from Syria's Sunni Muslim majority.
One activist, who requested anonymity, said pro-Assad vigilante groups, called "Popular Committees", are mostly constructed along sectarian lines by minority groups.
Some minorities fear the revolt is being taken over by Sunni Islamists who would marginalize them in a future state. Assad and his inner circle are members of the minority Alawite sect, an offshoot of Shi'ite Islam.
"The people of Damascus have started fighting themselves. The regime has been trying to incite minority sects through fear and has given some of them arms," said the anonymous activist.
The conflict in Syria has taken on regional sectarian dimensions, with Sunni Arab powers in the Gulf smuggling cash and weapons to the rebels as Shi'ite rival Iran supports Assad.
The uprising has drawn a trickle of Sunni militant fighters from abroad, some of them with links to the global network Al Qaeda. The uncertainty of who they may be backing has made Western powers hesitant to intervene militarily.
In a recent audio recording posted on the Internet, Al Qaeda leader Ayman al-Zawahiri called on Muslims to support the Syrian rebels, saying it was a way to confront neighboring Israel.
"Supporting jihad in Syria to establish a Muslim state is a basic step towards Jerusalem," he said. "And thus America is giving the secular Baathist regime one chance after another for fear that a government is established in Syria that would threaten Israel."
Chicago Tribune