Activists: 5,000 killed in Syria in August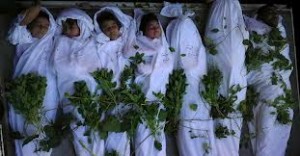 Two Syrian activist groups say about 5,000 people were killed in Syria in August, making it the deadliest month since the uprising began more than 17 months ago.
The Britain-based Syrian Observatory for Human Rights said Sunday that 5,440 people, including 4,114 civilians were killed.
The Local Coordination Committees, another activist group, said 4,933 civilians were killed in August.
The civil war witnessed a major turning point in August when President Bashar Assad's forces began widely using air power for the first time to crush the revolt.
The fighting also reached Syria's largest city, Aleppo, which had been relatively quiet for most of the revolt.
1600 killed last week
In a related development the U.N. children's fund UNICEF said Sunday that at least 1,600 people were killed last week in Syria in the deadliest seven days since the uprising against President Bashar Assad began in March 2011.
UNICEF spokesman Patrick McCormick provided the death toll of 1,600 and said it included some children. He did not immediately explain how he arrived at the figure. But there have been many reports from activists and witnesses of civilians killed in airstrikes that hit homes or residential areas.
Associated Press